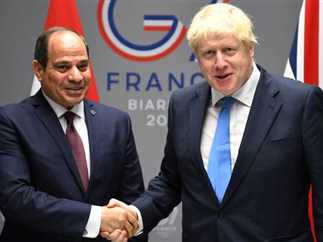 Egyptian President Abdel Fattah al-Sisi arrived in London on Sunday evening to take part in the UK-Africa Investment Summit, which is set to be held on Monday and attended by UK Prime Minister Boris Johnson and 21 African heads of state.
Ahmed Yassin, a member of the British Conservative Party, stressed the need to bolster Egyptian-British relations, especially since both countries have "transitioned to new eras." He explained that the economic situation in Egypt is now much better than it was before, with economic reforms and benefits having attracted investors.
During a televised interview, Yassin said that Egypt represented a "huge" market for investment, adding that he expects Egyptian-British relations to develop "significantly," especially in light of the UK's exit from the European Union.
More broadly, the African continent has become of great importance to investors, Yassin argued, going on to say that 97 high-ranking Chinese officials have visited Africa during the past few years.
The UK represents Egypt's leading investor, with $47.4 billion having been invested across 1,816 British companies, said Egypt's Minister of Investment and International Cooperation Sahar Nasr, according to a report by Ahram Online in September.
Also on Sunday, Sisi took part in the Berlin summit on Libya, where more than 12 countries – many of them backing rival Libyan factions – and a number of international organizations gathered to discuss the latest developments in the crisis, with the aim of reaching a political solution to end the conflict in the war-torn country.
On Saturday, forces allied to Libyan National Army (LNA) commander Khalifa Haftar blocked oil exports from the country's main ports leading up to the Berlin summit, threatening the war-ravaged country's oil output. Haftar has been leading an offensive to take the country's capital, Tripoli, from militias allied to the UN-backed rival government since last April.
France, Russia, Egypt, Jordan, and the United Arab Emirates have supported Haftar's self-styled Libyan National Army, while Turkey, Qatar, and Italy back the UN-supported Government of National Accord (GNA), led by Fayez al-Sarraj and based in Tripoli.
Over 150,000 people have been displaced due to fighting in the capital, according to Reuters.
Haftar and Sarraj did not meet during the Berlin summit, which was held at the invitation of Germany's Chancellor Angela Merkel to support efforts by UN Secretary-General António Guterres and the United Nations Special Envoy to Libya Ghassan Salameh to boost the reconciliation process between various parties to the conflict in Libya.
Merkel told reporters that attendees of the Berlin summit had agreed that an unstable truce in Tripoli over the past week be turned into a permanent ceasefire, adding that foreign powers operating in Libya have agreed as well to commit to a UN arms embargo, according to a report from Reuters.
A Turkish-Russian summit last week failed to produce a binding ceasefire, with Sarraj signing an agreement proposed by Turkey and Russia and Haftar leaving Moscow before agreeing to the truce. In response, Merkel announced that Germany would invite the rival leaders to the summit in Berlin on Sunday, according to The Associated Press.
Egypt has warned that Turkish military intervention in Libya, which began with the deployment of Turkish troops and Turkish-backed fighters from Syria, would threaten the stability of the Mediterranean region. On December 31, the Arab League echoes those fears, rejecting what it called "foreign interference" in Libyan affairs during an Arab League Council meeting called by Egypt. 
In November, Sarraj and Erdogan signed two memorandums of understanding that sparked new tensions in the Mediterranean. The agreements discuss contentious maritime boundaries in the Mediterranean Sea and aim to boost security and military cooperation between the two countries, a move that Egypt, Greece, and Cyprus have rejected.
Edited translation from Al-Masry Al-Youm