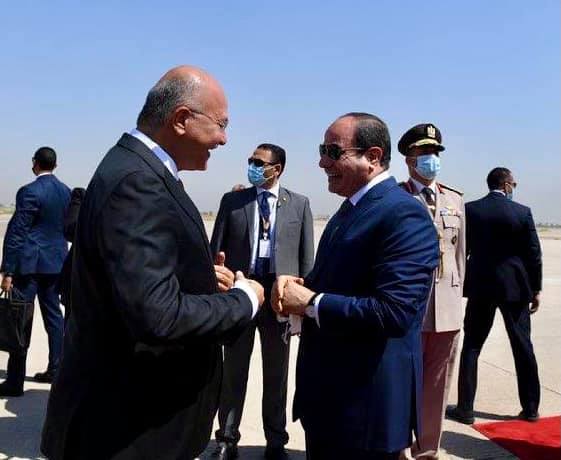 Egyptian President Abdel Fattah al-Sisi arrived in the Iraqi capital Baghdad on Sunday morning, to participate in the tripartite summit between Egypt, Iraq and Jordan, with Mustafa al-Kadhimi, Iraqi Prime Minister, and King Abdullah II of Jordan.
This marks the first visit of an Egyptian president to Iraq in 30 years, and follows in the wake of the fourth round of a tripartite cooperation framework launched in Cairo in March 2019.
Sisi was received at Baghdad International Airport by Iraqi President Barham Salih.
Egyptian presidential spokesperson Bassam Rady said that this historic visit reflects the strength of the extended historical relations between Egypt and Iraq.
Rady added that Sisi held talks with Kadhimi at the government palace in Baghdad. Sisi also held talks with his Iraqi counterpart Salih.
Sisi affirmed Egypt's aspiration to develop bilateral cooperation with Iraq into a sustainable framework of economic integration and strategic cooperation, especially in light of the great challenges facing the region, as well as the economic and social crises caused by the COVID-19 pandemic.
Salih affirmed the depth of the ties between the two nations, and his country's eagerness to elevate cooperation with Egypt to further strategic partnership.
He said that these relations would serve as a cornerstone for maintaining regional security and stability and restoring balance to the region, in light of Egypt's central importance regionally and internationally.
Salih also expressed his country's desire to benefit from Egypt's successful experience in implementing development projects and comprehensive economic reforms, and from Egypt's tireless efforts to combat terrorism and extremism.
He also touched on increasing communication between educational, cultural and religious institutions in both nations.