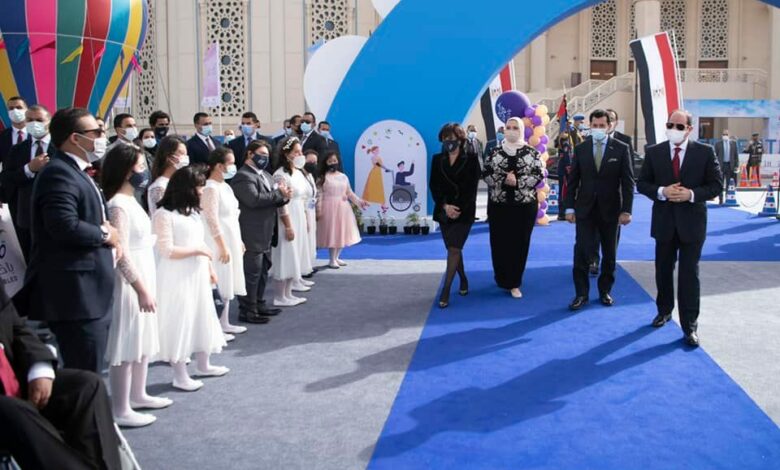 Egyptian President Abdel Fattah al-Sisi announced a package of executive measures that will be implemented soon specifically for people with special needs or disabilities:
The projects implemented within Decent Life initiative in all governorates include all the societal, cultural, sports and development requirements for people of determination.
Expanding the fields of teacher training and rehabilitation with mechanisms, skills and foundations of modern methods of dealing and communicating with people with special needs in order to enable them to learn and excel in various academic and practical fields.
The artistic and cultural production sectors will produce more work aimed at highlighting the capabilities and creativity of citizens with special needs and their contributions to Egypt.
All youth and sports organizations provide programs and activities for people of determination aimed at raising their physical fitness and improve their sports skills.
Coordination between the relevant state agencies to formulate programs aimed at training and employing young people with special needs to enrich them with the requirements of the labor market in the various employment sectors, which opens up future prospects for them.
Sisi's remarks came during "Differently-Abled" celebration dedicated to children with special needs at the Al Manara International Conference Center in New Cairo.
The ceremony coincides with the International Day of Disabled Persons which the UN has been celebrating since 1992 to drum up support for this segment of society to ensure their rights and raise public awareness on the importance of merging them into political, economic and cultural life.
Sisi stressed that the positive support of the Egyptians for people with special needs will never stop and will only increase further.
People of determination are "the treasure that God Almighty bestowed upon us," he said.
Edited translation from Al-Masry Al-Youm