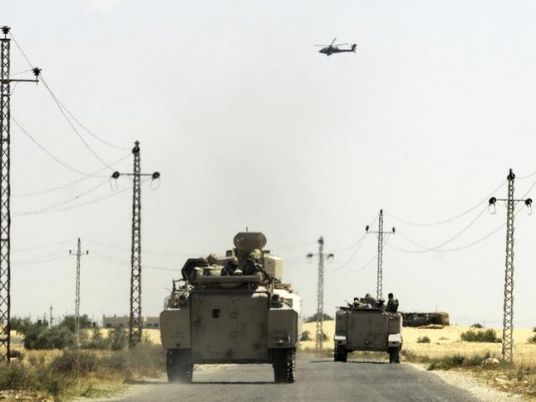 The General Command of the Armed Forces said on Monday that army forces destroyed 171 terrorist targets and 244 ammunition storehouses as part of the Sinai 2018 Comprehensive Military Operations aimed to eliminate terrorism.
The official spokesman of the armed forces Tamer Refaei said that the operations resulted in the elimination of four top militants during an exchange of fire with the forces.
In the tenth statement issued regarding the operation, he said that a non-commissioned officer and two recruits were killed, while two officers and one recruit were injured during the clashes.
Refaei added that the forces detonated 101 explosive devices, which were targeting the forces during their raids on the routes in the areas of operations, and discovered and destroyed four terrorist safehouses, within which was found mines, explosive devices, weapons, ammunition and spare parts for cars and motorcycles.
He added that the forces seized a media center containing computers, firearms, communication devices and foreign currencies, and destroyed 244 storehouses in which they found automatic weapons, ammunition, radio communications.
In response to the increasing terrorist threat in North Sinai, the Sinai 2018 operation was launched on Friday, February 9 by different branches of the army, including the Second and Third Field Armies located in Sinai.
Since 2014, North Sinai has witnessed a growing number of terrorist attacks carried out by IS and its affiliated group the Sinai Province, including various attacks against the army and the police.
North Sinai-based state security has carried out large-scale security sweeps and military operations in response.
Edited translation from Al-Masry Al-Youm