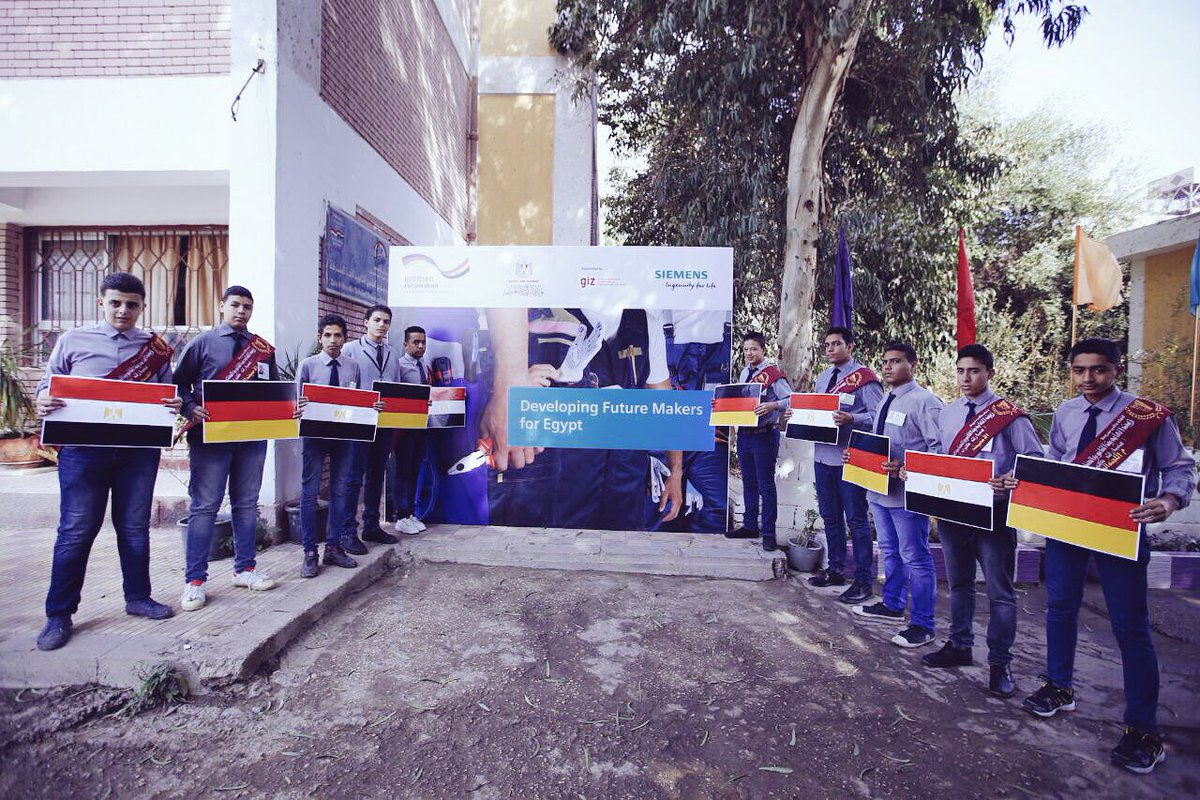 The German Siemens company and Germany's Development Cooperation Agency (GIZ) are partnering up in order to transform Zein Al Abedin Technical School in Cairo based on the German dual education model.
The plan involves renovating the school, providing it with modern technological equipment and learning solutions, remodeling the curriculum and training teachers to improve both the quality and the reputation of technical education in Egypt.
The initiative was first presented during a visit to the school on November 19, in the presence of Egypt's Minister of Education and Technical Education, Tarek Shawki, as well as Emad Ghaly, CEO of Siemens Egypt, and Andreas Kuck, country director of the GIZ.
"Today's industrial sectors are undergoing rapid change. Manufacturing systems are becoming increasingly complex and digitalized and these systems require qualified highly-skilled individuals. Our joint initiative with German Development Cooperation is designed to ensure that teachers and students have the tools, resources and expertise to maximize technology's potential and improve learning outcomes," Ghaly said.
The dual degree that the Zein Al Abedin school will award to its graduates will be accredited both by the Egyptian Ministry of Education and its German counterpart. The curriculum will be based on the German dual education system, which combines theoretical, practical and on-the-job learning in various technical fields, such as industrial mechanics, electrical engineering and automation, as well as the maintenance and repair of power plants and wind farms.
"We are delighted about this cooperation," said Minister Shawki, adding that "technical education is a great choice" for young Egyptians. The project will help "prepare our youth for a highly productive future", thus contributing to the Egyptian economy as a whole, he went on.
During their education, students will split their time between school lessons and on-the-job-training in a company. The model has been imitated in numerous countries and is often credited by economists as one reason for the strong performance of Germany's industrial sectors.
"Studies show that there is a strong correlation between the proportion of vocational and technical education in a country and building a sustainable, diversified economy", a Siemens spokesperson said.
The first class in the renewed school is set to begin in autumn 2018.
In Germany, a technical, non-academic education is a respectable and popular path to an often well-paid career in the country's strong technical industry, such as the automotive sector.
Meanwhile, in Egypt, technical training suffers from a low reputation, even though "we need more high-skilled technicians than we currently have in the Egyptian market", noted Emad Ghaly, CEO of Siemens Egypt.
Changing this mindset and improving not only the quality but also the status of technical vocational training in Egypt was cited as one of the biggest challenges by GIZ and Siemens representatives. "We need a paradigm shift", said Siemens Learning Manager, Ahmed El Saadany, who expressed confidence that demand for vocational training at the Zein Al Abedin Technical School will rise once the news about its high quality spreads.
Lars Fiechel, responsible for the activities related to the enhancement of the Egyptian dual system within German development cooperation, added, "This partnership underscores the long-term commitment of Germany to support the efforts of the Ministry of Education and the Egyptian private sector towards youth empowerment."
The remodeling of the school is part of a wider Siemens initiative, in cooperation with Germany's Federal Ministry for Economic Cooperation and Development, to strengthen vocational training in Egypt, with a total investment of more than 22 million euro. Other projects include the establishment of a joint technical training center in Ain Sokhna, which is supposed to train more than 5,500 Egyptian youth over the next four years.