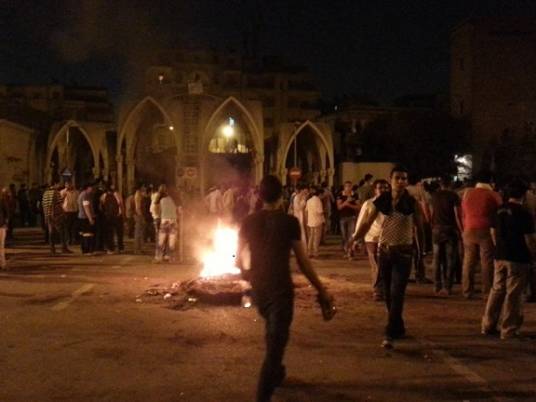 Members of the Islamist-dominated Shura Council were bitterly divided on Thursday as they viewed videos of Sunday's violent attacks on St. Marks Coptic Orthodox Cathedral in Abbasseya, submitted by the Interior Ministry for their review.
The video in question allegedly showed Coptic youth on a church rooftop, initiating violent clashes with the police. Coptic MPs angrily objected to the video, saying it was not an accurate portrayal of the events, and demanded that the council view a video submitted by MP Nabil Azmy that they said would prove the youth's innocence.
The council refused to view the second video.
The Shura Council's meeting was disrupted several times by heated arguments between its members.
As the council viewed the Interior Ministry's video, Freedom and Justice Party MP Abdel Rahman Metwaly commented, "He [a Coptic youth] is praying with a machine gun." Evangelical Church MP Gamiel Halim and other Coptic MPs objected to Metwaly's comment, as well as to the manner in which the session was being conducted.
Assistant Interior Minister for Public Security, Abdel Fattah Othman, gave his narrative of Sunday's events, claiming, "We negotiated with the church to start the funeral from the Mattareya neighborhood, not the cathedral; but some Copts, who have a certain political affiliation, and other politicians insisted on starting the funeral from the cathedral to use the situation to achieve their objectives."
"They [Copts] assaulted the security forces accompanying the funeral, so we decided to observe the situation from a distance, as some troublemakers deliberately provoked security officers and assaulted them," Othman accused.
"The mass was held in calm, except for slogans chanted by some Maspero youth who do not fall under the control of the church," he alleged.
"About 800 Coptic and Muslim activists came from a street facing the cathedral, and they hysterically started attacking cars," the official continued, claiming that "residents gathered and both sides started exchanging rocks and birdshots. They set fire to police cars, and we were surprised by verbal and Molotov cocktail attacks."
"Youth from the cathedral ascended the rooftop and firearms appeared, which forced us to evacuate the area next to the cathedral, provoking hit-and-run operations," Othman alleged.
"That is true, sir. You are accomplice for not securing the funeral," MP Haliem interjected.
MP Mamdouh Ramzy then intervened in the testimony, saying, "Othman's talk is provoking. Do not underestimate our intellgience; did you listen to the president's assistant, Essam al-Haddad? There are cameras in the cathedral that captured shots made by masked men on your armored vehicles. Enough, you have put the country in a crisis."
MP Faried al-Bayady said: "The video displayed is provocative as it directs accusations to Copts," adding, "the scenario Haddad has mentioned to foreign newspapers is false."
Bayady angrily said that an interior minister who can not secure a funeral can not guarantee an entire nation's security.
Edited translation from Al-Masry Al-Youm