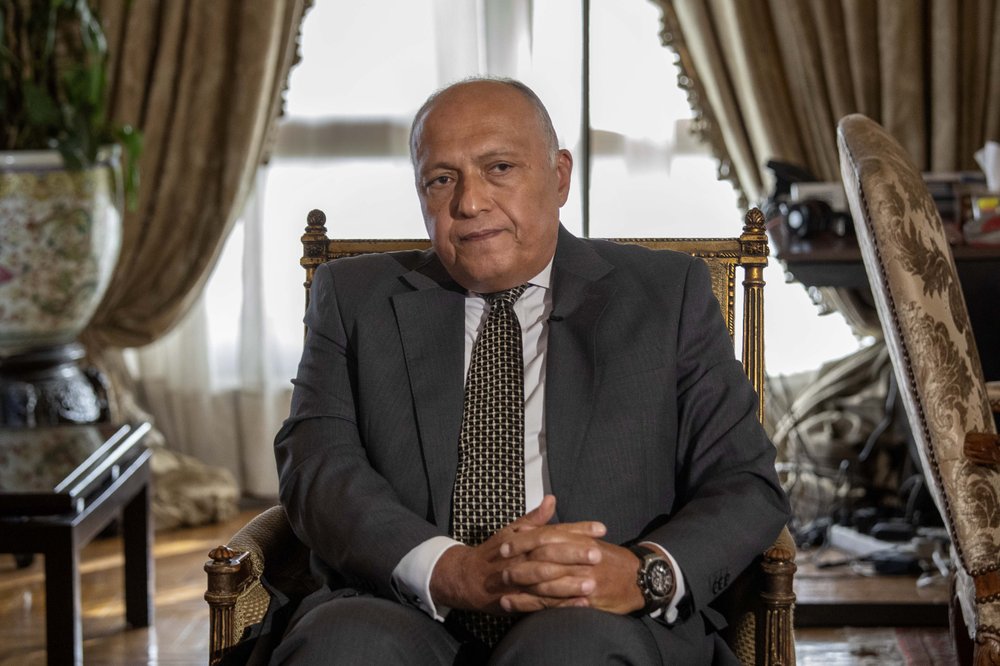 Foreign Minister Sameh Shoukry on Tuesday asserted that Egypt, in its capacity as current president of the UN Climate Conference (COP27) will coordinate stances with African states to come up with results that serve the international climate action especially the reduction of emissions and coping up with climate impact.
Shoukry's remarks were made at the inaugural session of the third edition of Aswan Forum For Sustainable Peace and Development, which is held in Cairo, under the auspices of President Abdel Fattah El Sisi.
The third edition of the Aswan Forum for Sustainable Peace and Development is set to take place under the theme, "Africa in an Era of Cascading Risks and Climate Vulnerability: Pathways for a Peaceful, Resilient and Sustainable Continent."
Shoukry said Aswan Forum agenda was outlined with a special focus on the agenda of green recovery and enhancing Africa's ability to cope up with the challenges posed by the climate change.
He voiced happiness over convening the third edition of the forum, asserting Egypt's keenness on continuing backing for the inter-African cooperation, which he termed as the optimum way for handling current extraordinary circumstances, a matter which was reflected in Sisi's keenness to deliver a word to the forum.
Shoukry said that the third edition of Aswan Forum will provide a vast space for deliberate dialogues on interrelated challenges which threaten African peace and stability with a focus on finding out creative solutions that achieve the agenda of the African Union for 2062 and the Sustainable Development Agenda for 2030.
The Egyptian top diplomat reviewed Egypt's vision to counter the challenges facing the African continent in light of the extraordinary developments taking place worldwide topped by the world food crisis and the repercussions of coronavirus pandemic.
He reiterated the need for diversifying the resources of food supplies for Africa, urging a solidarity of international efforts to help the black continent with a package of economic incentives.
Shourky also underlined the importance of adopting an integrated approach to fight terrorism and build strong national foundations to be able to repel the current threats of terrorism.
He also asserted that Egypt, in its capacity of current president of UN Climate Conference (COP27), will coordinate with various states to enhance the international climate action.
The diplomat also noted that Aswan Forum will mainly focus on climate-related issues in light of its increasing impact on security and stability in Africa.
He also extended thanks to all partners, regional and international organizations as well as research centers on backing the convocation of the forum, noting that this coordination was a practical model on constructive cooperation which aims at achieving the aspirations of the various peoples.