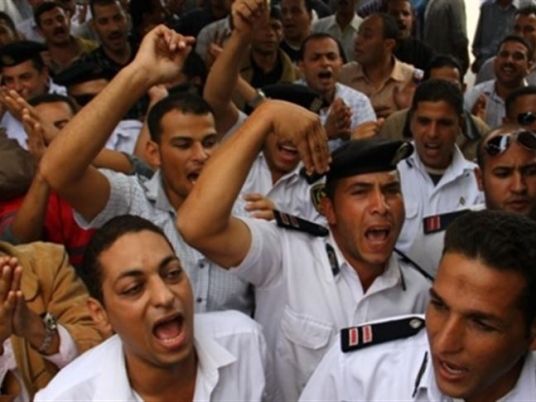 Dozens of police personnel protested outside the Sharqiya Security Directorate on Sunday to condemn the arrest of seven colleagues as they headed to the Egyptian Media Production City for an interview with a TV channel.
The seven policemen belonged to the so-called "Coalition of Policemen" that led police protests in Sharqiya last August. Protesters then voiced demands for pay rises for policemen, but were dispersed by security forces.
A source at Giza Security Directorate said the authority received information that the seven policemen were planning to "instigate the destruction of the Interior Ministry and sow sedition within its ranks."
The source said that a 40-officer force was sent to make the arrests and that the policemen are currently being interrogated.
The same source added that following the arrests, another group of officers blocked the Oasis Road to condemn the measure. However, the reports were denied by an official statement from the Interior Ministry.
The incident comes as public anger soared in Cairo's al-Darb al-Ahmar district after a policeman shot dead a driver on Thursday night. The killing occured after a scuffle over the cost of a transportation job the driver had performed for the policeman.
The incident sparked angry protests by the victim's friends and relatives outside the Cairo Security Directorate, prompting President Abdel Fattah al-Sisi to suggest legal changes to improve police-civilian relations.
Edited translation from Al-Masry Al-Youm