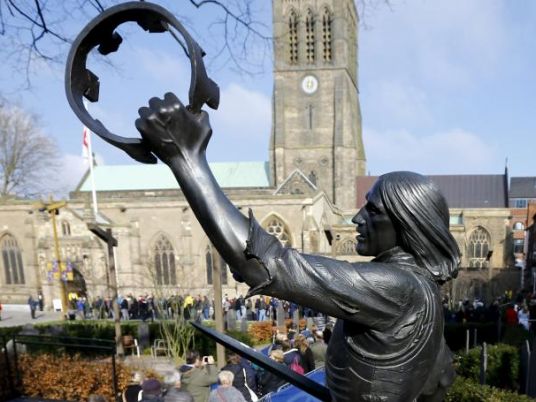 Shakespeare portrayed King Richard III as a "poisonous bunch-backed toad" who was reduced to offering his kingdom for a horse before he was killed by the forces of Henry Tudor, crowned Henry VII soon after, at the Battle of Bosworth in 1485.
Little could Shakespeare, who wrote in Tudor times, have known that Richard would become a posthumous global celebrity and Britain's latest phenomenon in royal tourism.
Remains suspected to be those of the last king of the Plantagenet dynasty were discovered in 2012 in an unmarked grave beneath a car park in the east midlands city of Leicester. The grave was within the precincts of a Greyfriars monastery destroyed in Tudor times.
DNA testing confirmed their identity, while inspection showed Richard had not been a hunchback, though his spine was abnormally curved. In March his remains were reburied in an elegant limestone-and-marble tomb in Leicester Cathedral in a major public ceremony.
The cathedral, which prior to Richard's entombment would get a handful of visitors daily, had almost 2,000 people visit one day last spring, church officials said.
"We're getting used to being the place that hosts King Richard III," said David Monteith, the Dean of Leicester.
The cathedral charges no admission and relies on volunteers to deal with the stream of visitors. The modestly priced souvenirs on offer include Richard III teacups and fridge magnets.
Colombian Lilian Pantoja drove from Liverpool, where she lives, to see the tomb and the nearby battlefield.
"The burial of a medieval king who is the last English king that died in battle, I thought that's amazing," she said.
Prepared for influx
Leicester has been preparing for the influx for some time. A new "Dynasty, Death and Discovery" visitor center, opposite the cathedral, contains a diorama depicting Richard's life and exhibits explaining how his remains were found and identified.
Part of the center juts into the car park where the skeleton was found, and visitors can walk on a plexiglass floor and see the king's former unmarked grave below. Open seven days a week, admission is 7.95 pounds (US$12.40) for adults, 4.75 pounds for children under 16.
Leicester, like many mid-sized British cities, lost much of its medieval past to urban renewal, but visitors still get a flavor of what it looked like in Richard's time.
The Guildhall, beside the cathedral, is 600 years old and described on the city's website as being "one of the best preserved timber-framed halls in the country."
Nearby, the "Jewry Wall" – so-called not because it was the Jewish quarter, but probably from a medieval word for legal officials – is said to be one of the largest surviving pieces of Roman masonry in England, dating to 125-130 AD.
The Blue Boar Inn, where Richard spent his last night, is long since demolished; a Travelodge on the supposed site now caters for the budget traveler.
Leicester has a wide range of hotels and restaurants, among them the popular Belmont Hotel on De Montfort Street, the Indian restaurant Kayal at 153 Granby Street and the White Peacock, which features regional produce, at 14-16 King Street.
The city also sits in one of England's great food-producing regions. The market town of Melton Mowbray, which bills itself as England's "rural capital of food," hosts an artisanal cheese fair in May which this year attracted some 50 cheese makers displaying 250 cheeses, most available for free sampling.
In October, the town stages an annual food festival featuring a wide range of foods, including the locally produced Stilton cheese and Melton Mowbray pork pies.
The story is that the pies were popular among foxhunters in the 18th century. The gentry who carried them in their saddle bags would have nothing to do with the crusty pastry, which they threw to the hounds, but devoured the grey pork inside.
The pies may not sound appetizing to some, but Peter Cross, bakery manager for pie maker Dickinson & Morris, founded in 1851, said that, during Christmas week, some 40,000 pies "fly out the door" of his shop – meaning yes, pigs can fly.