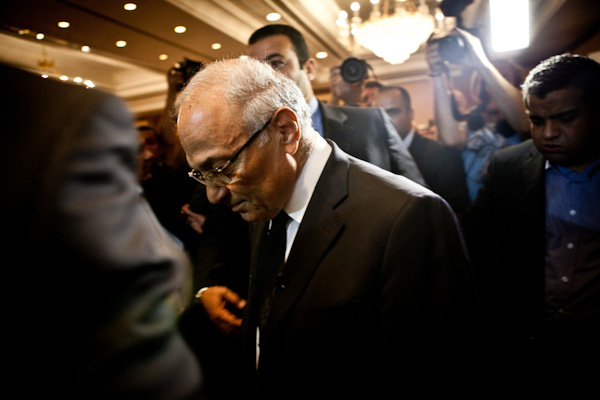 The Alliance of Egyptian Revolutionaries sent a complaint to Public Prosecutor Abdel Meguid Mahmoud on Monday against former Prime Minister Ahmed Shafiq for his role in the killing of protesters during the 25 January revolution, accusing him of hiding information about the Battle of the Camel and covering up for its perpetrators.
Shafiq will compete against Mohamed Morsy, the head of the Muslim Brotherhood's Freedom and Justice Party, in the presidential runoff on 16 and 17 June.
The complaint claimed that on 4 June 2012, Shafiq told Khairy Ramadan that he had information about the crimes committed against the revolutionaries, especially in the Battle of the Camel, which had not been presented to the investigating judge.
The group said that Shafiq became confused when Ramadan asked him why he did not divulge such information, and then accused the Muslim Brotherhood and "those with beards" of killing the demonstrators in that battle.
"This did not happen, for we were present and we defended the demonstrators from the thugs," the Alliance of Egyptian Revolutionaries wrote in the complaint. "And we accuse him [Shafiq] of complicity in that crime." Attached to the complaint was a CD with video footage of the program with Ramadan.
Assailants riding camels and horses attacked protests against former President Hosni Mubarak on 2 February last year, killing at least 11 people and injuring dozens. The attack became known as the Battle of the Camel.
On Saturday the judge presiding over the Battle of the Camel trial summoned Shafiq, head of the Central Command Zone General Ahmed al-Roweiny, and three TV talk show hosts to testify, responding to requests by the defendants' lawyers.
Shafiq did not appear in court Monday to testify in the case, in which 24 former officials and businessmen stand trial for allegedly plotting the bloody attack in Tahrir Square last year.
Edited translation from Al-Masry Al-Youm