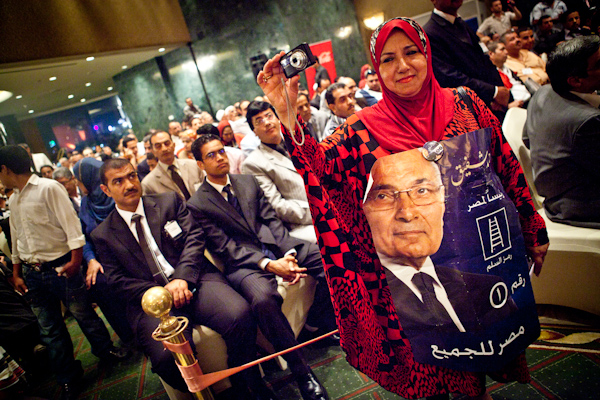 When Hosni Mubarak was president, Kamel Ahmed would sit in a furnished garage next to a busy intersection in Cairo's Manial neighborhood, discussing campaign strategies with others working for Fathy Gleed, a former candidate for Mubarak's National Democratic Party.
Ahmed, a 55-year-old warehouse guard, used the election season to supplement his income. Now, after the uprising, he is doing the same with the campaign of presidential candidate Ahmed Shafiq, the ousted leader's last prime minister.
"Hey, brother! I'm coming by tonight to distribute some Shafiq posters. Gather some men to help me," Ahmed said to a group of neighbors and friends at a Manial café. "We're paying the same prices as before."
Mubarak's party was dissolved by a court order in April 2011, two months after Mubarak was driven from office by nationwide protests. Since then, Gleed's small army of campaigners laid low and stayed out of politics. But the garage, Gleed's headquarters, buzzes with activity these days. Ahmed can again count on this extra income from working just like "before."
Shafiq secured 24 percent of the votes in the first round of the presidential election on 23 and 24 May, about 300,000 fewer votes than the Muslim Brotherhood's Mohamed Morsy. Shafiq won in many of the Brotherhood's strongholds across the country, such as the Nile Delta governorate of Sharqiya, Morsy's birthplace. This dealt a blow to the 84-year-old Islamic group, especially considering its landslide victory in the parliamentary elections last year.
Much of Shafiq's success can be attributed to the revival of tactics of the formerly ruling party, including patronage networks and the mobilization of state institutions. Many previous NDP members and MPs have already mobilized their own local networks to reach people in the same way they did when the party was in full-force.
"Now we're able to work out in the open again," said Ahmed.
When the NDP was winning elections and doling out favors, local operatives around the country were cogs in the machine. They received funding from the party and affiliated businessmen to run their local electoral races, or to campaign for another party candidate in exchange for political favors. After the revolution-induced hiatus, "the money is flowing again," said Ahmed.
"All our old pals are out campaigning for Shafiq as well," he added.
Besides Gleed, Ahmed is a part of the inner circle of another of the area's businessmen, former NDP parliamentarian Magdy Allam. He claims Allam has also mobilized his men to go back to work for Shafiq. Allam is currently wanted on numerous corruption charges and is reportedly in hiding in Lebanon.
Manial residents say the past elections brought back campaigners they used to know as NDP "money men" whose sole purpose during elections was to buy votes.
"One woman in our neighborhood comes by to distribute money on behalf of Shahinaz al-Naggar. This year she said that there will be a lot of money for people to vote for Shafiq," said Saneyya Gamal, a grocer in the area. Naggar is a former MP and the wife of former NDP Secretary General Ahmed Ezz, who now faces corruption charges.
Raafat Khaled, a scrap metal salesman from the nearby district of Khalifa, took up some extra work with Naggar's clique to campaign for Shafiq.
"During every election, I go to a few people who I know get a lot of money to campaign and see if I can get some extra work," said Khaled. This year, he went to a man he describes as "Shahinaz's leader in the area."
"There's more money this year than before. The 'leader' said they're spending at least LE10 million for Moqattam and Khalifa neighborhoods alone," he said. Both districts have a combined population of about 260,000, according to Cairo Governorate records.
Mahmoud Ibrahim, a media strategist working with the Shafiq campaign and a former NDP member, told Egypt Independent that even if there are people paying for votes, they are doing it independently and not following orders from the official campaign.
Instead, the official campaign relied on winning over key community leaders in the Delta villages.
"We approached community leaders who have a big impact on people's opinions, including village chiefs and former MPs who have a huge backing — not just former party MPs, but also independent ones," said Ibrahim, who owns Egypt Campaigns, a company that offers elections consultancy and training.
Shafiq has been criticized by the Brotherhood and other pro-revolution groups for reproducing the old regime by exploiting the same networks and tools used by the former president's party. The presidential candidate has confidently admitted more than once on television that Mubarak is his role model.
Another former NDP member, Moataz Mohamed Mahmoud, secretary general of the Freedom Party and a former NDP secretary in Qena, told Egypt Independent that his party is officially endorsing Shafiq in the second round of the presidential election against the domination of the Brotherhood.
"It's very logical that former NDP members support Shafiq in the elections after Morsy threatened to crush them and anyone associated with the old regime once he takes power. It's a normal reaction to organize and back Shafiq out of fear of Morsy," said Mahmoud. However, Mahmoud claimed that the former ruling party is now gone, and these people are simply Egyptian citizens supporting the candidate who will "protect their interests."
"We will do everything in our means to mobilize voters for Shafiq through our MPs and members across the governorates," he said.
Elections monitors held that widespread fraud comparable to that of the Mubarak-era elections did not occur during the first round of voting, but the Carter Center, an international election monitoring group, criticized the lack of access it received to the final aggregation of national results, saying it undermined the overall transparency of the process.
The Carter Center was also prevented from assessing pre-election phases, including voter registration and campaigning, due to restrictions imposed by the electoral authorities.
Shafiq's military background has led many to accuse the Supreme Council of Armed Forces, the police and the state bureaucracy of backing him. Lawyers for former candidate Hamdeen Sabbahi, a Nasserist who came in third place, filed a complaint with the Presidential Elections Commission that 117,000 police and military conscripts voted, despite being legally prohibited from voting.
According to a former government official who was involved in preparing the voters' lists during the parliamentary elections, the SCAF refused to remove the names of army and police conscripts from the voter lists due to "national security" concerns. This means the conscripts could have potentially voted, the former government official said.
It would be very difficult to prove so because neither their national IDs nor the voter lists indicate who are conscripts, the source said.
Shafiq's official campaign, which was launched on 1 May, just three weeks before elections, adopts other strategies to persuade people. Ibrahim calls it "psychological war." Besides the official campaign website and social media accounts, Ibrahim also manages all the unofficial Facebook and Twitter pages that support Shafiq through coordinating with their administrators, he told Egypt Independent.
"We use those to send certain messages, attack other candidates and leak information that can't be said in the form of an official statement," he said. Ibrahim was a member of the NDP media secretariat and had assisted the party's former secretary, Ali Eddin Helal, with the electronic committees where young party members were assigned to use the Internet and mainstream media to defame opposition forces and youth movements before the revolution.
Dozens of unofficial pro-Shafiq Facebook pages have emerged in recent months, providing platforms for smearing the Muslim Brotherhood. One page, "Yes to Ahmed Shafiq for president of Egypt," features videos of pundits accusing the Brotherhood of forming armed militias. Another page, "The campaign to vote for Ahmed Shafiq," features a video of a woman claiming that Morsy hit her son with a car.
Shafiq has propagated an image of himself as a strongman who would put security and stability at the top of his priorities. According to Ibrahim, the campaign capitalized on the chaos of the repeated clashes between police and military forces and protesters over the past year. Clashes between protesters and military officers in Abbasseya that started in late April left 12 dead and many injured.
"The Abbaseya clashes definitely served our interest," Ibrahim said. "Egyptians are craving political stability and economic prosperity, and this is what Shafiq promises."