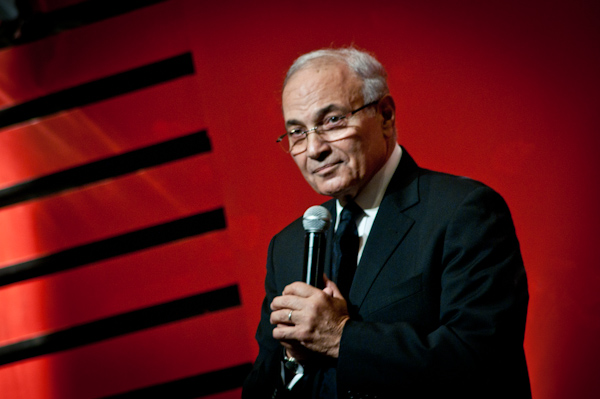 Former presidential candidate Ahmed Shafiq called on groups demonstrating on 25 January to make their primary demand early presidential elections so that the current president proves he won with an actual majority.
Shafiq, who served as civil aviation minister under ousted President Hosni Mubarak and later as his last prime minister, has claimed that the June presidential election, in which Shafiq lost and President Mohamed Morsy won, was rigged.
Shafiq won about 48 percent of the vote, and left the country for Abu Dhabi after his defeat. He is being tried in absentia on charges of financial corruption.
Shafiq, who has founded the Nationalist Movement Party, said during a TV interview to be aired Wednesday evening on Al-Qahira wal Nas satellite channel that if the election were to be held again, he is not sure whether he would run.
Opposition groups plan to commemorate the 25 January revolution Friday by demonstrating against the Muslim Brotherhood in Tahrir Square and in front of the Ettehadiya Presidential Palace.
They hope to protest for the rejection the recently adopted Constitution, which was drafted by an Islamist-dominated assembly; the dismissal of the current Cabinet; the achievement of social justice; and the prosecution of those involved in killing protesters during the 25 January revolution.
Shafiq said Morsy would be tried for the current killings of demonstrators in the next era in the way Mubarak is being tried now. He said most Muslim Brotherhood leaders have become very wealthy, saying this should be investigated.
Edited translation from Al-Masry Al-Youm