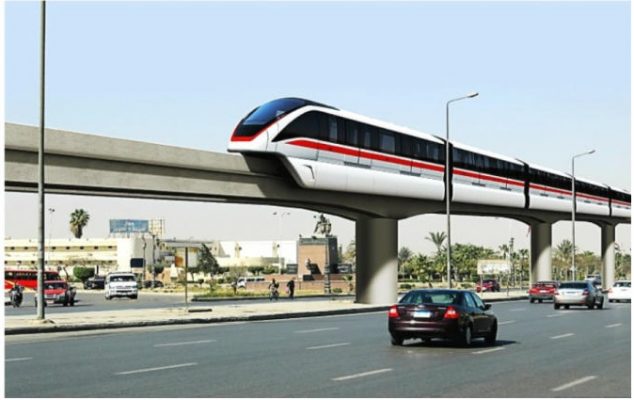 The Information Center of the Ministry of Transport on Sunday published several facts regarding the New Administrative Capital's monorail project:
The monorail line is 56.5 km long and includes 22 stations.

The overall implementation rate of the project is 21.2 percent with the civil work rate at  25 percent, including supplies and design, while the implementation rate of electromechanical work is 17.7 percent.

The first train has been fully manufactured and tested, and the second, third and fourth trains are currently being manufactured. The construction rate of the mobile units has reached 25 percent.

The project is of great importance, as it will connect the Greater Cairo region with the Administrative Capital, and will contribute to facilitating the movement of employees and citizens from Cairo and Giza to New Cairo and the Administrative Capital. It will be integrated with the third metro line at the "Stadium Station" in Nasr City, and with the electric train at the City of Arts station in the New Administrative Capital.

The monorail project will be introduced for the first time in Egypt, representing a huge shift in mass transportation as it is a fast, modern, safe and environmentally friendly means of transport. It will also mitigate traffic congestion as it is expected to replace private cars.

Part of the project, from the New Administrative Capital to the al-Moshir Mosque station at a length of about 45 km , is scheduled to be inaugurated at the end of May 2022, and then the part extending from "al-Moshir Mosque station" to the "Cairo Stadium station" at a length of about 11.5 km is scheduled to open in February 2023.

The two monorail projects (the New Administrative Capital's and the 6th of October City's) are implemented through a consortium of companies including Alstom, Orascom, and the Arab Contractors. The two projects extend for a total 98.5 km with 34 stations and will contribute to sustainable development east and west of Cairo as part of Egypt's Vision 2030, part of the state's urban and economic development.