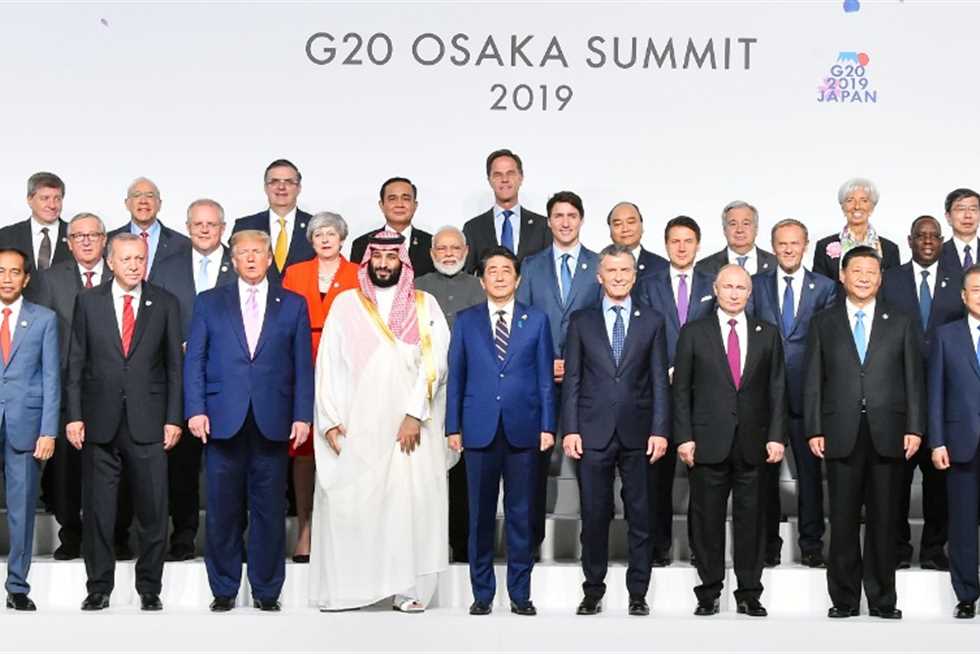 The 14th G20 summit started in Osaka, Japan on Friday, with the participation of the Egyptian President Abdel Fattah al-Sisi at Japan's invitation to seek harmony among world leaders following deepening divisions, such as a trade war between the United States and China and tensions between the US and Iran raising fears of war.
On the sidelines of the G20 summit, President Sisi participated in a series of important meetings with world leaders, including a mini China-Africa summit joining Presidents of South Africa, Senegal with the Chinese President in the presence of the UN Secretary General.
During the meeting, President Sisi pointed to the need for developing practical models to enhance cooperation between China and Africa by establishing effective partnerships and exploring the best ways to finance infrastructure projects in the continent, such as the Cairo-Cape Town corridor, linking Lake Victoria to the Mediterranean Sea and others.
He pointed out that the African Free Trade Agreement, which entered into force, requires support from all the continent's partners. The president reiterated the importance of the role of the Suez Canal Economic Zone in promoting China's Belt and Road initiative.
Sisi met with his South African and Senegalese counterparts to coordinate positions on behalf of the continent.
He then met with the Prime Minister of Italy to stress Egypt's keenness to uncover the culprits behind the murder of Italian student Giulio Regeni.
The president also met with German Chancellor Angela Merkel to discuss strengthening tripartite cooperation frameworks between the two countries in Africa, along with coordinating efforts with Egypt as a leading European partner in the fight against terrorism, illegal immigration and developments with the Libyan scene.
Other leaders Sisi met include Prince Mohammed bin Salman of Saudi Arabia, French President, Prime Minister of India, Directors of the International Monetary Fund, World Health Organization and President of the European Council.
Edited translation from Al-Masry Al-Youm