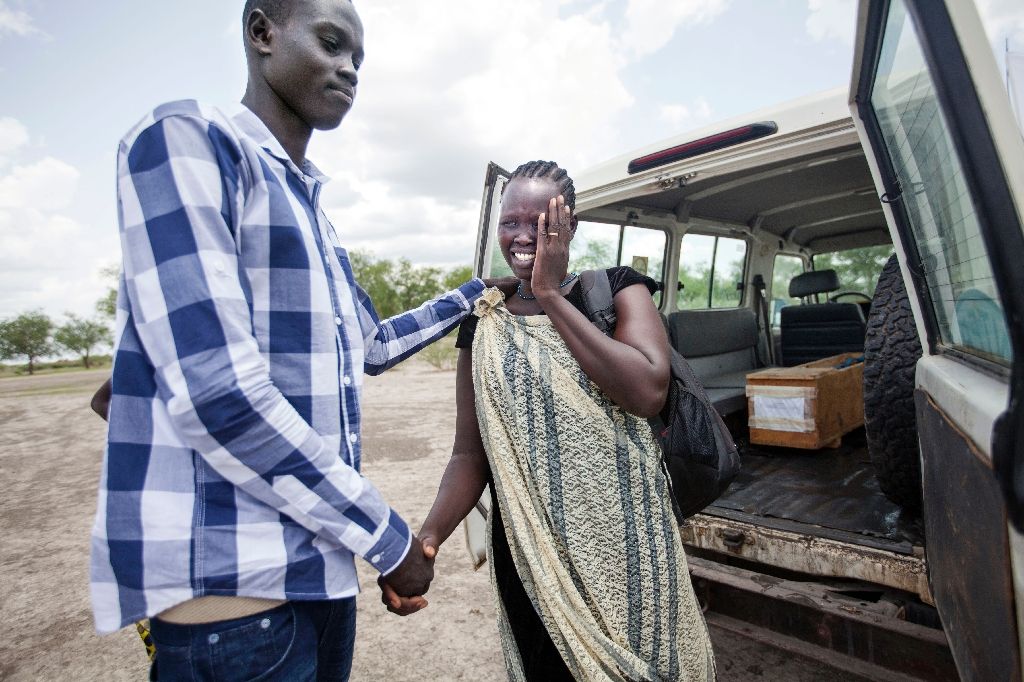 Aburoc (South Sudan) (AFP) – Their hug is long and moving but awkward as Jorgina, sobbing, strains to embrace her teenage son Emmanuel who has grown taller since South Sudan's war tore them apart.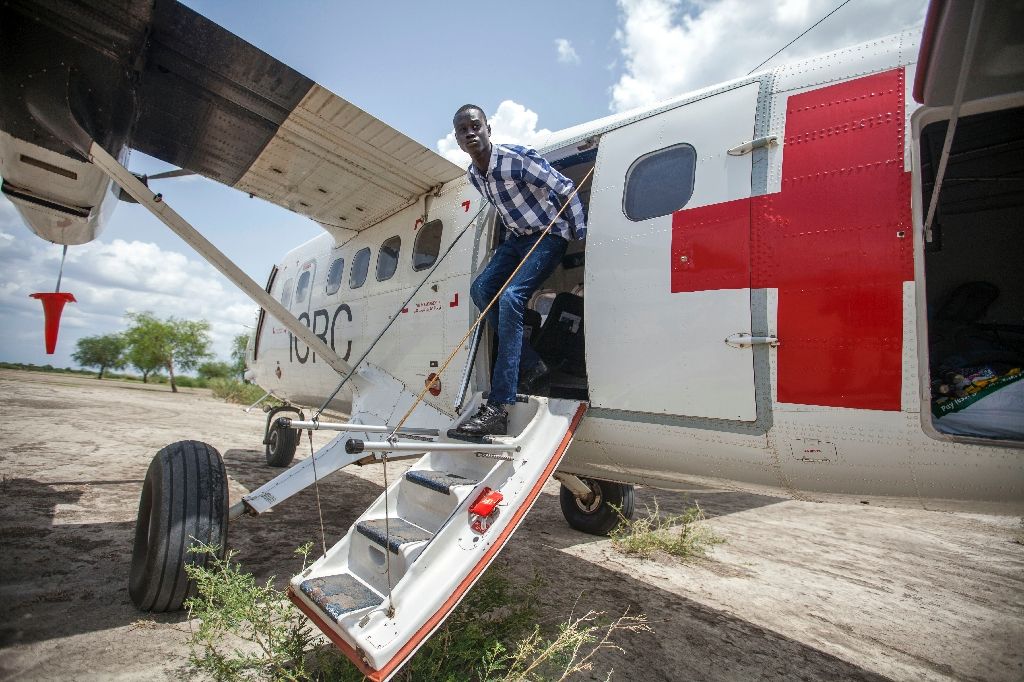 The International Committee of the Red Cross, which works to reunite families, registered 1,800 cases of missing family members in early June as fighting spread (AFP Photo/ALBERT GONZALEZ FARRAN)
It has been three and a half years since they last saw each other. They've both been shunted to and fro by the relentless fighting. Emmanuel is now a gangly two metre (6.5 foot) tall 17-year-old.
He and Jorgina are among thousands of family members who lost sight of each other in the chaos of the civil war in the new African nation that just gained independence from Sudan in 2011.
More than 3.7 million people have been forced to flee their homes since the war started in December 2013.
That year Emmanuel was attending school in the northern city of Malakal near the Sudanese border, not far from his family home in the town of Kodok.
On December 24, just days after the fighting began between troops loyal to President Salva Kiir and those backing his former deputy Riek Machar, a rebel offensive on Malakal forced Emmanuel to take flight.
"I walked to Kodok. It took me two days. When I arrived… I went to my family," he said.
A few days after his return he was sent to buy some food at the market.
"When I came back, my parents and relatives were not home."
– 'Nobody showed up' –
The small town had been buzzing with rumours of an imminent offensive and while Emmanuel was gone his family, along with many other inhabitants, had dropped everything and fled.
"I stayed at home three days. Nobody showed up," he recalled.
So he returned to Malakal, where he got wind that his parents may have reached the capital Juba.
Using some money given to him by a distant relative, he managed to bargain his way aboard a government plane which was heading to Juba empty after bringing food to Malakal.
Once in Juba an acquaintance from Kodok put him in touch with a woman named Lena Ngor, who like him was from the Shilluk ethnic group.
"I called him to say I would look for his relatives. When I failed to find them, I called him to tell him to stay with us," the 34-year-old former journalist said.
So Emmanuel moved into a large tent in the garden next to her house, but he never returned to school as Ngor, who has four children of her own, could not afford his fees.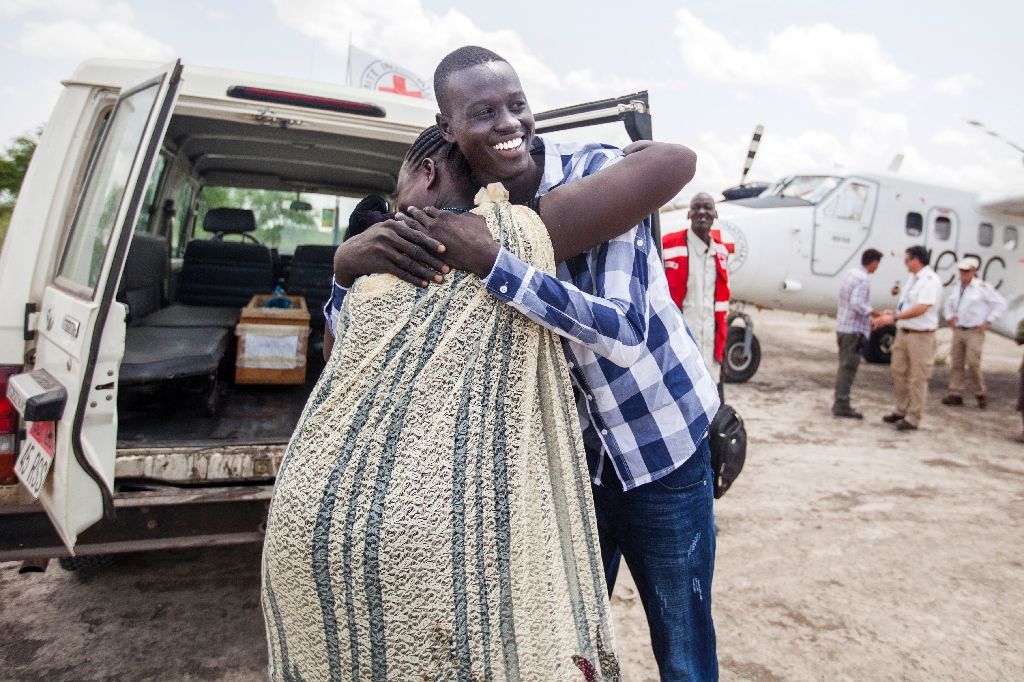 Emmanuel, 17, hugs his mother as they reunite in Aburoc, South Sudan after more than three years, forced apart by the civil war which began in 2013 (AFP Photo/Albert GONZALEZ FARRAN)
Nevertheless it is thanks to Lena, via one of her work colleagues, that Emmanuel managed to find out in March that his family had returned to Kodok.
The International Committee of the Red Cross (ICRC), which is working to reunite families, then got involved. In early June the organisation had registered 1,800 cases of missing family members — double last year's number — as fighting spread into the southern Equatoria region.
"If we take all the cases of people who approach us, approximatively, we manage to restore the contact for half of them. And we organise family reunification only for a small number of them, for the most vulnerable," said ICRC's Celine Croon.
Separated families, once identified, mostly communicate by phone, with the ICRC logging 33,000 calls already this year.
– 'The bad things have gone' –
Emmanuel was meant to reunite with his family earlier this year but a new government offensive once again forced the residents of Kodok, including his mother, to flee.
But the time eventually came for Emmanuel to go home.
On the eve of his departure Lena was ambivalent about seeing her "little brother" leave.
"I'm going to miss him. He was helping me. I would like to meet his mother and his father one day," she said.
Emmanuel made it to Aburoc, a village hosting 10,000 displaced people in early June, and it was at the edge of a small landing strip that he was reunited with his mother and uncle.
"I thought I might not see him again, because of this conflict," said his mother, Jorgina Pagam Obur.
"I have only two children. And now my child has arrived, all the bad things have gone. I feel very happy and very light," she said.
Now she intends to seek refuge in neighbouring Sudan, and try to get Emmanuel back into school.
But while he may have found his family, the future remains uncertain for the young man who has gone from isolated minor, to displaced teenager and perhaps soon, to refugee.