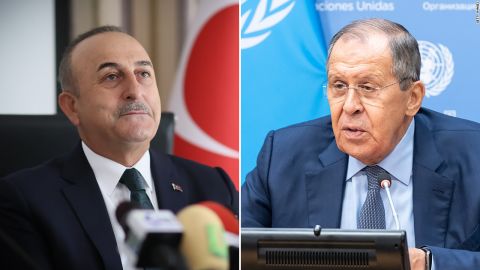 Russian Foreign Minister Sergey Lavrov spoke with Turkish Foreign Minister Mevlut Çavuşoğlu about conditions for resuming its participation in a critical grain deal, Russian state news agency TASS reported late Monday, citing Russia's Foreign Ministry.
According to TASS, Lavrov told his Turkish counterpart that the resumption of ships carrying grain through the grain-export corridor will only be possible with "necessary guarantees" from Kyiv.
Lavrov told Çavuşoğlu that Kyiv must guarantee it won't use the humanitarian corridor and Ukrainian ports for actions against Russia, state media reported.
Some background: Russia announced Saturday it would suspend its participation in the United Nations-brokered grain export deal with Ukraine after alleging drone attacks on the Crimean city of Sevastopol.
The Black Sea grain deal between Russia and Ukraine was brokered in July by the UN and Turkey. Erdoğan has said Ankara is determined to try and keep the Black Sea grain initiative alive despite Moscow's withdrawal.
Despite Russia's withdrawal, 12 vessels carrying grain and other agricultural products left Ukraine's Black Sea ports on Monday, Oleksandr Kubrakov, the Minister of Infrastructure announced on Twitter.