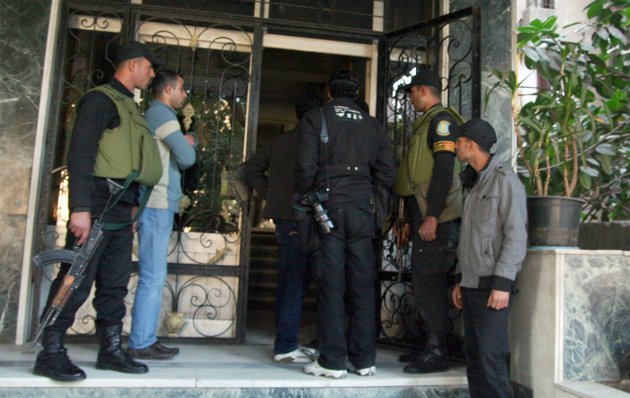 Cairo security services, in collaboration with public department with information and documentation, arrested on Saturday members of Hasry and Yqeen news networks at their headquarters in Qasr al-Nil area. Equipment used in broadcasting were seized.
Cairo's general investigations department claim that some news channels have been broadcasting 'false' news through these two networks for the purpose of spreading violence against the armed forces and police. Information also showed that the two networks had apartments on Champollion street to broadcast on internet without license.
The raids and arrests of these journalists are further evidence of a government crackdown on dissident media. In a country that under democratic transition, the restricting of press freedom are a worrying sign the country is slipping back into a Mubarak-era police state. Government officials claim the moves are merely meant to restore stability.
Arrested include Yehia Khalaf, head of Yqeen network, correspondent Mohamed Salah, art editor Islam Mohamed, deputy art editor Mostafa Khalaf and photographer Abdel Rahman Ragab. Authorities also seized two laptops, five computers, six video cameras, three earphones, an LCD TV, video tapes, two iPads, three flash drives, 12 memory cards, five badges for microphones with name of Yqeen, four microphones, three hard disks, three gas masks, two wireless devices.
At the Hasry news network, authorities artested Mohamed Omar, managing director of the network, Ashraf Tawfiq, economy editor, Mohamed Ahmed, sports editor, Mohamed al-Husseiny, economy editor, Aliaa Mohamed, politics editor, Norhan Yasser, economy editor, Doaa magdy, social media editor, and Hend abdel Kareem, arts editor. Nine computers, five computer screens and a microphone were seized.
Police report was filed, prosecution conducted investigations. Seized items are being inspected.
Edited translation from Al-Masry Al-Youm