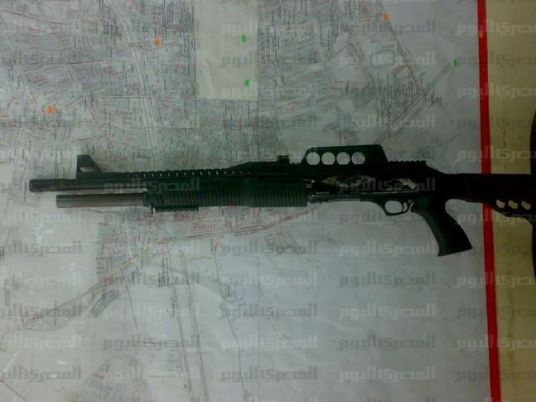 Egypt's National Security Agency (NSA) has confiscated two shipments of weapons intended for use by terrorists in North Sinai, the Interior Ministry said on Saturday.
One shipment was confiscated after a tip-off about weapons being sent to Sinai from a farm on the Ismailiya-Sharqiya border. Security forces seized the weapons near the Sarabum ferry boat in Ismailiaya. The shipment consisted of two pick-up trucks loaded with Austrian automatic weapons, ammunition and sniper scopes.
The second shipment was intercepted prior to transport from Beni Sueif governorate to North Sinai. It included shotguns, ammunition and cannabis.
The ministry said that the weapons were likely intended for use in attacks on police and military personnel.
Egyptian military and security forces have been battling a mounting insurgency in Sinai since the removal of former President Mohamed Morsi in June 2013.
Militants linked to the Islamic State terrorist group frequently conduct ambushes, mortar attacks and roadside-bomb attacks in the North Sinai governorate.
Security forces are often the target, and reports of attacks on security personnel and conscripts are a weekly occurrence.
In July, President Abdel Fattah al-Sisi issued a decree to extend the state of emergency in parts of North Sinai for another three months, as of July 29.
The northern part of the peninsula has been under a state of emergency since October 2014 following a deadly attack on an army checkpoint that left 33 soldiers dead. The decree has been extended several times since then as security forces continue to battle insurgency in the region, including once in January of this year, and again in May.
As part of the emergency, curfews are imposed in some regions in the restive peninsula, mostly located in North Sinai and along the borders with Israel and the Gaza Strip.
On Friday last week, Islamic State terrorists killed 12 army soldiers in an ambush in Sinai. On Saturday, the Egyptian Air Force responded with dawn raids on terrorist targets, allegedly destroying weapons and vehicles as well as killing numerous terrorists over a three-hour period.