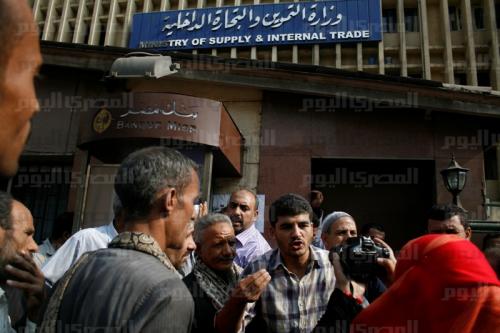 The security forces broke up a demonstration on Tuesday evening of bakery workers in Beheira outside the headquarters of the Cabinet using tear gas and arrested 11 of them after they announced a sit-in to demand permanent contracts.
The workers had been expelled from their work upon a decision by Beheira governor after applying the new bakery system.
The security forces intensified their presence at the Cabinet headquarters on Hussein Hegazy Street and set iron bars closing it.
The demonstrator chanted: "Oh sir, give me LE4 to please Hadhod bey," "Oh Sisi where is your decision? Be kind and appoint us," and "10 years of work, we demand permanent contracts."
Mohamed Hakim, a protester, said the security assaulted dozens of protesters using sticks and tear gas despite being peaceful. He said protesters have been working for 10 years without permanent contracts, adding that Beheira governor Mostafa Hadhoud expelled them from his office on Monday evening after they met with Prime Minister Ibrahim Mehleb who promised to provide jobs for them.
"How come they expel us after we have been working for 10 years?" he said. "Our salary was reduced in 2014 from LE945 to LE700 on pretext of the country's conditions, which workers did not object to… It was further reduced in last April to LE593, and we were promised permanent contracts, which made us be patient."
"It was the big trick to lay off workers," Hakim complained.
There is corruption on a wide scale among officials of the governorate, said Hakim.
Regulations provide a daily meal for workers and uniforms annually, which they have not received since the the late 1990s, Hakim added.