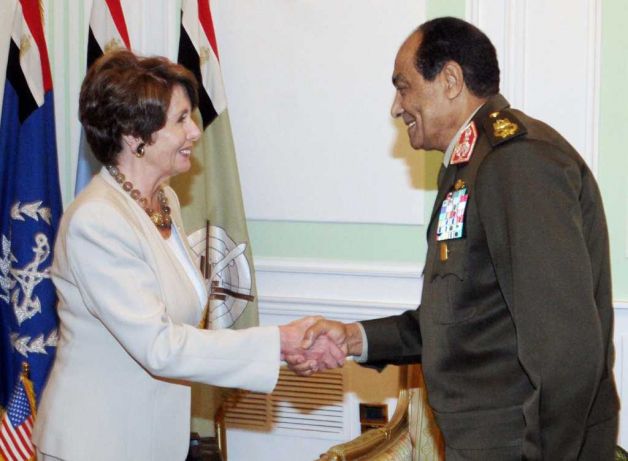 Army and police forces on Friday closed several critical areas of the Egyptian capital ahead of protests announced by the Muslim Brotherhood on their "Friday of Determination."
All entries leading to Tahrir Square were closed. Ten army and police armored personnel carriers were stationed in front of the Egyptian Museum and iron barricades and barbed wire placed in front of the building itself.
Several armored vehicles were also deployed in downtown streets leading to Tahrir. Central Security Forces were positioned in Simon Bolivar Square, close to the Nile Corniche.
The Health Ministry positioned six ambulances in Abdel Moneim Riad square.
The army also closed all streets leading to the Defense Ministry on al-Khalifa al-Mamoun Street.
The army deployed five armored vehicles in front of the main gates of Ain Shams University and another four armored vehicles in front of the Republican Guards building.
Barbed wires were also stretched across the main gates of the Defense Ministry and other positions on al-Khalifa al-Mamoun.
The army also closed the area around the Republic Guards building on Salah Salem Street with barbed wires and positioned two army vehicles in front of the gates of the Central Auditing Organisation, also on Salah Salem.
In the area around the Ettehadiya presidential palace, six army vehicles were placed on Mirghany Street, and four army vehicles were placed in front of Gate 3 of the palace and Central Security forces and four police armored vehicles were positioned beside Omar Ibn Abdel Aziz Mosque.
Security also tightened its presence on Galaa Street around Azbakeya police station. The same police station had been attacked before following the dispersal of the pro-Morsy sit-ins weeks ago.
Two armored vehicles were positioned close to the gates of the police station. Four armored vehicles were positioned on the 6th October Bridge on the side overlooking the police station. Police and army vehicles were also deployed in Ramsis Square.
Army forces on Friday closed all streets leading to Rabaa al-Adaweya, the main site of Muslim Brotherhood supporters' sit-ins. The army positioned four armored vehicles on Tayaran streets and placed barbed wires and security barricades in front of the Health Insurance Hospital. Another three vehicles and a fire engine were also positioned in the direction leading up to Rabaa from Khedr al-Touny street. Three vehicles were positioned on Nasr Street.
The army also placed nine army vehicles on Youssef Abbas which also leads to Nasr street. Barbed wires were placed to prevent traffic from passing.
Edited translation from MENA