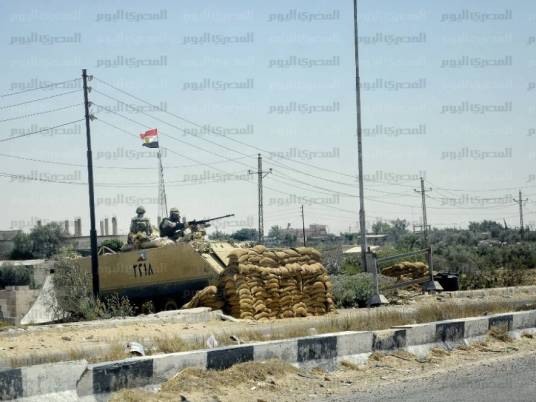 Security forces in North Sinai on Tuesday arrested a Palestinian who was taking pictures near a checkpoint in al-Taweel, east of Arish. Another two men were arrested in al-Gora village south of Sheikh Zuweid.
An investigation is ongoing to find out if they played a role in the recent violence in the governorate.
Meanwhile, security sources said that the Armed Forces have moved several armored vehicles that were stationed near vital establishments, and ordered round-the-clock patrols. They are also continuously combing the streets of Arish to fend off attacks against buildings or citizens.
Armed Forces helicopters hovered over several villages south of Sheikh Zuweid and briefly landed in some areas, a sign that the army may be preparing a security campaign to crack down on armed elements that target security headquarters in North Sinai.
North Sinai has generally been calm and has not experienced any major attacks outside of intermittent firing on al-Taweel checkpoint, east of Arish, and on al-Masoura checkpoint in Rafah.
Security forces have also released 12 people who were found to have no connection to the violence that broke out in the governorate over the past few days.
Edited translation from Al-Masry Al-Youm