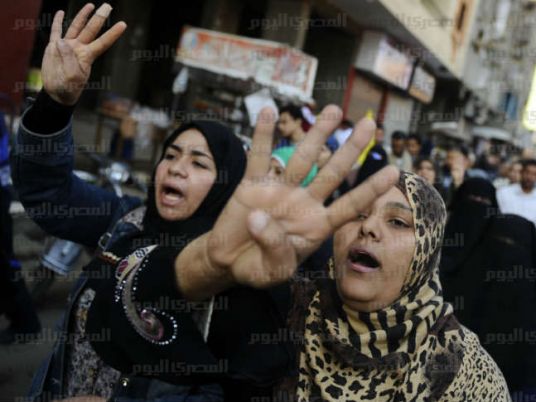 The security forces dispersed a Muslim Brotherhood march in Mattareya after Friday prayers using four armored vehicles and two CSF vehicles.
Dozens of Muslim Brotherhood supporters staged a march from Al-Rahman Mosque in Mattariya on al-Taawon Street condemning recent sentences handed to Brotherhood leaders.
The protesters chanted anti-military slogans and raised Rabaa signs and images of toppled President Mohamed Morsi.
Mohamed Badie and members of the Guidance Bureau appealed their death and life imprisonment sentences before the Court of Cassation.
Cairo Criminal Court, headed by Judge Moataz Khafagy, had sentenced to death Abdel Rehim Mohamed Abdel Rehim, Mostafe Abdel Azim al-Beshlawy, Mohamed Abdel Azim al-Beshlawy and Atef Abdel Gelil al-Semary.
Badie, deputy supreme guide Khairat al-Shater, and Muslim Brotherhood leaders Rashad Bayoumy, Mohamed Mahdy Akef, Mohamed Saad al-Katatny, Ayman Hodhod, Ossama Yassin, Mohamed al-Beltagy, Essam al-Erian, Mahmoud Ezzat, Hossam Abu Bakr, Ahmed Shousha, Mohamoud Ahmed al-Zanaty, and Reda Khalil were sentenced to life in prison.
The defendants face charges of inciting murder, attempted murder, possessing unlicensed firearms and live ammunition, joining an armed group aimed to terrorize innocent people during clashes that took place in 2013 outside the Muslim Brotherhood headquarters in Moqattam between opponents and group members.
Nine people were killed and 91 others injured during the clashes.
Edited translation of Al-Masry Al-Youm