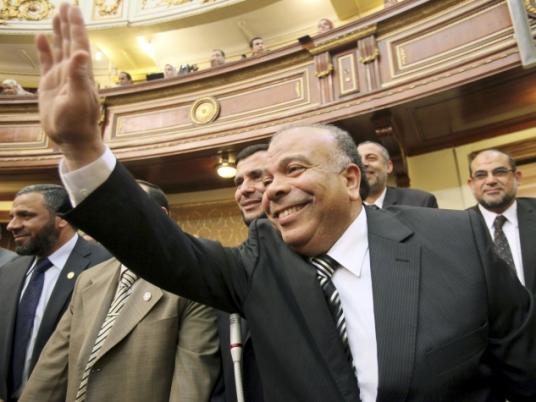 Secular MPs severely criticized People's Assembly Speaker Saad al-Katatny for his decision Sunday to suspend parliamentary sessions for a week over the Cabinet's refusal to resign.
Independent MP Amr Hamzawy said the decision was not discussed before being made and that he is not sure whether the decision was approved by a majority, because it was made quickly.
In a speech, Katatny summarized the nature of conflict with the Cabinet and proposed that the People's Assembly would suspend its sessions for next week, especially because Parliament last week objected to the Cabinet's agenda and accused it of creating problems and refraining from confronting the security failure.
Hours after suspending the sessions, state-run news agency MENA reported that the ruling Supreme Council of the Armed Forces is expected to perform a limited Cabinet reshuffle that may include Islamists.
In a phone call with the privately owned ONTV channel on Monday, Hamzawy warned against using Parliament as a tool in the struggle between SCAF and the Muslim Brotherhood, which would make Parliament lose its legitimacy.
He also stressed that Parliament shouldn't get involved in political struggles by making hasty decisions.
"Ganzouri's cabinet is not the problem, but the real one is dealing with the elections and reaching an agreement on the wording of the constitution," Hamzawy said.
However, MP Emad Gad denied that all members agreed on Katatny's decision, adding that he and other members signed a memorandum demanding that Katatny apologize for the decision he made and put the issue up for voting again.
In a phone call with the privately owned satellite TV channel CBC on Sunday, Gad said it was the Brotherhood's Freedom and Justice Party members who approved the decision, and that Parliament had turned into a battlefield between FJP and SCAF.
He also said that voting on the decision was quick and that no details about the decision were clarified.
MP Ziad Bahaa Eddin said in a post on his Facebook account that what happened in Parliament was "imaginary."
"Katatny proposed suspending the sessions. FJP members only approved the decision. In seconds, Katatny announced the approval of majority, then he and the members left. We were shocked as the decision wasn't discussed, voting wasn't accurate and the whole issue wasn't introduced," the member said, accusing the party of making a serious decision without consulting or respecting others.