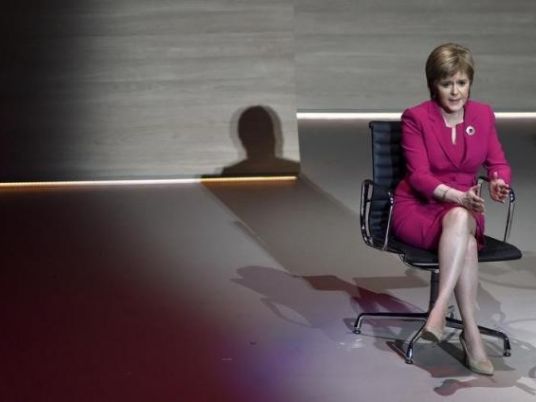 Scottish leader Nicola Sturgeon told British Prime Minister David Cameron on Saturday Scotland alone would decide whether to become an independent country, seeking to build support for her nationalist party ahead of a possible future independence bid.
Sturgeon used her Scottish National Party's (SNP) annual conference to send two stark messages to Cameron's London-based Conservative government: don't deny Scotland a second independence referendum if it wants one and don't take Britain out of the European Union.
"The prime minister's attitude to Scotland betrays the worst characteristics of this government – arrogant, patrician and out of touch," First Minister Sturgeon told party activists.
"It is not you (Cameron) who will decide the future of Scotland, it will be the people of Scotland who decide the future of our country," said Sturgeon, 45, who is known affectionately as just 'Nicola' among party supporters.
Scots rejected independence by 55 percent to 45 percent in a referendum in September 2014 but the popularity of the SNP, whose long-term aim remains an independent state, has since surged.
Cameron has said he considers the issue settled and is focused on devolving new policymaking powers to Scotland. But Scottish nationalists are hoping that a shift in public opinion will, in the long term, force him to reopen the debate.
Although not among the topics debated on the podium at the Aberdeen conference, independence, and the question of how and when a second referendum could be held, has bubbled just beneath the surface during the event.
"The second referendum… that's the pinnacle of what's going on here, everything else is just domestic stuff," said Robert Wilson, 77, a party supporter for the last 50 years. "I'll go away from this with the message that we've got a lot of convincing to do of other people."
That view, shared by other conference delegates interviewed by Reuters, reflects Sturgeon's efforts to refocus the party on the need to consolidate its powerbase in elections for the Scottish parliament due next May.
"There are no shortcuts," she said. "We must … persuade a majority of Scots of what we already know to be true. Independence is the best future for Scotland."
'Fast and loose"
Sturgeon, who has won a reputation as a wily and often fierce political opponent, criticized Cameron over his plans to renegotiate the terms of Britain's EU membership.
"We despair at the failure of leadership of a prime minister pandering to Eurosceptics in his party, but unable to articulate clearly and precisely what it is he is seeking to renegotiate," Sturgeon said.
Cameron's renegotiation and referendum strategy is designed to address divisions among Conservatives as well as rising Euroscepticism in the party's powerbase in England.
Earlier this week, Cameron sought to defuse the frustration of fellow EU leaders over a lack of detail in his renegotiation demands by promising to send them a list of proposals in writing in early November.
"David Cameron might play fast and loose with our place in Europe, but be in no doubt – the SNP will campaign positively for Scotland, and the UK, to stay in the European Union," she said.
Opinion polls show public opinion across the whole of the United Kingdom – which comprises England, Scotland, Wales and Northern Ireland – is narrowly in favor of remaining an EU member. Support is higher among Scottish voters.