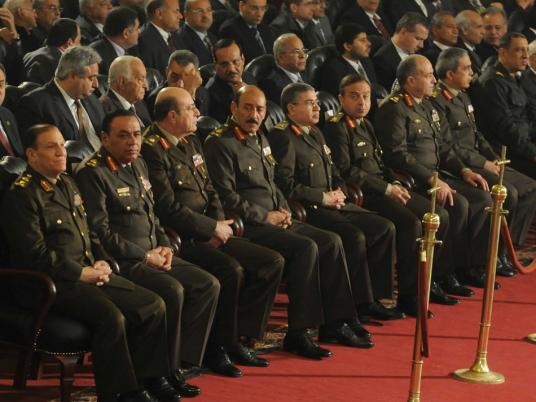 The new president would maintain the right to appoint and sack the cabinet and its ministers, including the defense minister, said two members of the ruling military council on Monday.
In a joint press conference with Major General Mamdouh Shahin, Major General Mohamed al-Assar said, "The new president will take on all presidential powers completely, and with full respect. The armed forces will only maintain part of the legislative authority, as per the Constitutional Declaration, until a new Parliament is elected."
Shahin stated that the new president would have the authority to appoint the prime minister, his deputies and ministers, including the defense minister.
"We cannot review the verdicts of the Egyptian judiciary as long as we adhere to the principle of judiciary independence," said Assar, commenting on the Supreme Constitutional Court's ruling that dissolved the People's Assembly.
"We, the armed forces, were not happy for the verdict, but we respect the ruling and the court has its sanctity," he added.
Assar continued, "It was necessary to issue the complementary constitutional declaration because Egypt is turning into a democratic state. This is a difficult process, and we still face dangers and challenges."
On Sunday the SCAF passed amendments to the Constitutional Declaration voted in by popular referendum in March 2011. The amended articles grant the SCAF full legislative and financial powers, outline the role of the next president and govern the formation of the Constituent Assembly that would draft the new constitution.
Responding to calls for a million-man protest to demand the return of the ousted Parliament, Assar said there is no way that the verdicts can be rejected. "We do not object to the right of peaceful demonstration as long as it does not block roads or facilities," he stated. "We will not accept protests if they lead to deviating from the law," Assar added.
Edited translation from MENA