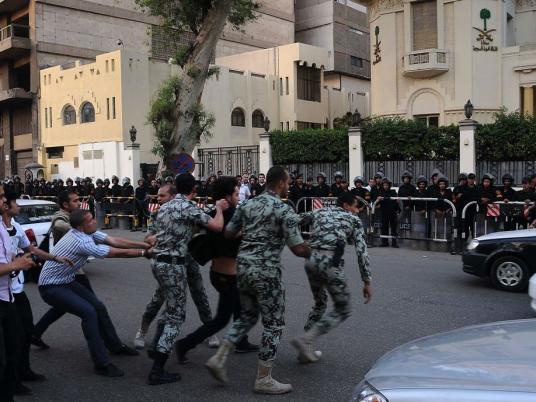 The ruling military council and its appointed cabinet have continued vows of maintaining good relations with Saudi Arabia, despite an ongoing diplomatic crisis over the detention of an Egyptian human rights lawyer in the kingdom.
Mass protests broke out after Egyptians learned of the detention of Egyptian human rights lawyer Ahmed al-Gizawy by Saudi authorities, who allege he flew into the country carrying drugs.
The demonstrations were initially spurred by reports that Gizawy had been sentenced in absentia, before his arrival and without notification, to one year in prison and 20 lashes for insulting Saudi King Abdullah bin Abdulaziz.
Saudi Arabia has recalled its ambassador from Cairo as a result of the crisis.
The Supreme Council of the Armed Forces has stressed the depth of relations between the two countries, saying they would overcome any attempts to threaten the eternal and historical ties between them. The council added that what happened was irresponsible behavior that the generals hope will end soon, and that all of Egypt's diplomatic missions receive the full attention to its security services.
Speaking on behalf of the cabinet on Sunday, Planning and International Cooperation Minister Fayza Abouelnaga said that the crisis with Saudi Arabia is about to end, and that the Saudi ambassador is returning to Cairo within hours. She also denied that differences exist between the two countries over certain islands in the Red Sea.
"We cannot imagine that this crisis would affect our relations," she said. "This was confirmed by Field Marshal Tantawi and Prime Minister Ganzouri on Saturday.
"It will not affect Saudi investments," she added. "This was confirmed by the Saudi government."
Meanwhile, hundreds of workers for headhunters employing Egyptians in Saudi Arabia on Sunday staged a mass rally in front of the Saudi Embassy, demanding the return of Ambassador Ahmed Qattan, stressing that relations between the two countries would not be shaken by individual acts, and calling on the Saudi king to reopen the country's embassy and consulates.
Edited translation from Al-Masry Al-Youm