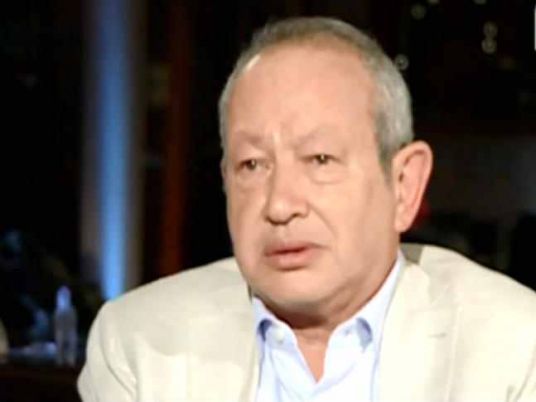 Egyptian telecommunication mogul Naguib Sawiris said Tuesday that The Wall Street Journal deliberately misquoted his views on the Egyptian government's security strategy during a recent interview.
Sawiris said his statements about the government's method of handling the Muslim Brotherhood "were taken out of context" to serve the paper's viewpoint.
"We fought against these people because they were doing exactly what we are now doing to them today. This is not the right way," WSJ quoted Sawiris as saying. "There will have to be a solution. They have one or two million people, very militant and very active. What are you going to do with these people? You cannot put two million people in jail," he added, referring to the detention of supporters of the Muslim Brotherhood.
Sawiris explained he had told the newspaper that the security solution alone would not achieve stability, but said at the same time that the Brotherhood had to renounce violence and terrorism. He added that he had stressed to the paper that the Brotherhood was not ready to abandon violence, which makes stability yet far-fetched.
"The journalist picked what served his viewpoint and ignored the rest ( of my statement). That's the professionalism of western media," Sawiris said.
Edited translation from Al-Masry Al-Youm