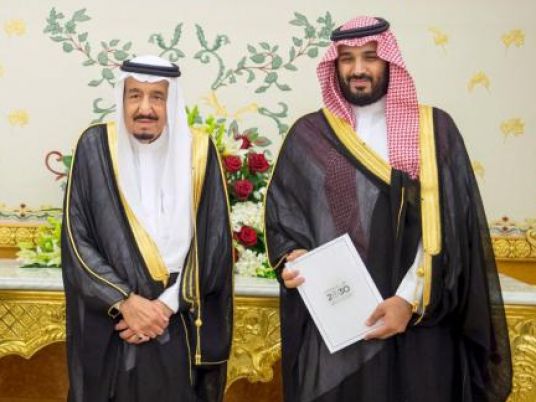 The powerful young prince overseeing Saudi Arabia's economy unveiled ambitious plans on Monday aimed at ending the kingdom's "addiction" to oil and transforming it into a global investment power.
Deputy Crown Prince Mohammed bin Salman said Riyadh would raise the capital of its public investment fund to 7 trillion riyals (US$2 trillion) from 600 billion riyals ($160 billion) and would sell up to five percent of shares in state oil giant Aramco.
The plans announced by Prince Mohammed also included changes that would alter the social structure of the ultra-conservative Muslim kingdom by pushing for women to have a bigger economic role and by offering an improved status to resident expatriates.
"We have developed a case of oil addiction in Saudi Arabia," Prince Mohammed said in a televised interview with al-Arabiya news channel, owned by the Al Saud ruling family, adding that Riyadh needed to cut its dependence on revenue from crude.
Even before oil prices started to plunge in 2014, economists and political analysts had long regarded Saudi Arabia's fiscal policy and economic structure as being unsustainable, but reduced income from energy sales has made reform more urgent.
At the center of the "Vision 2030" reforms is the restructuring of its Public Investment Fund (PIF), which Prince Mohammed said would become a hub for Saudi investment abroad, partly by raising money through selling shares in Aramco.
"We restructured the fund. We included new assets in the fund, Aramco and other assets, and we fixed the problems of the current assets that the public investment fund owns, both in terms of companies and other projects," he said.
"Initial data say the fund will have control over more than 10 percent of global investment capacity."
The part privatization of Aramco was also central to the plans, and Prince Mohammed said it would be transformed into an energy company that he valued at more than $2 trillion, and that up to 5 percent of it would be listed on the stock market.
So big is the state oil company because of its rights to the kingdom's crude reserves, that selling even 1 percent of its value would create the biggest initial public offering (IPO) on earth, he said.
He said other Aramco subsidiary companies would also be listed along with other publicly held companies, and added that one major benefit of privatization was that it would increase transparency and help limit corruption.
Ambitious targets
Since the prince was appointed to oversee Saudi long-term planning through the Council of Economic and Development Affairs, Riyadh's focus on reform has grown far more urgent and far more acute.
The 31-year-old has enjoyed a dizzyingly rapid rise since his father became king 15 months ago, from being little known outside the ruling Al Saud family to become the driving force of Saudi plans to prepare for a future after oil.
The government ran a deficit of 367 billion riyals ($98 billion) or 15 per cent of gross domestic product in 2015, officials said, and this year's budget plan aimed to cut that to 326 billion riyals ($87 billion).
His economic team has already announced efforts to curb wasteful government spending, to diversify revenue streams by introducing sales tax and privatizing state assets, and to make reforms in the education sector.
Such was the speculation among Saudis over the details of the plan that hashtags associated with it were the top two trending on Twitter on Monday in the country with the highest rate of social media use in the Middle East.
But ambitious targets, such as raising the private sector share in the economy to 60 percent from 40 percent, reducing unemployment to 7.6 percent from 11 percent and growing non-oil income to 1 trillion riyals ($267 billion) from 163 billion riyals ($44 billion) were not explained further.
Plans
Some Saudis said they had hoped for more detail on crucial issues such as education reform. There were no further details of plans to increase revenue from tax or of any changes to the political structure of the absolute monarchy.
"For me as a Saudi, I am concerned by the education transformation plan," said a Saudi entrepreneur. "If it is not at the top of the list, why not?"
However, the plan also envisaged increasing women's participation in the workforce, something that has already been growing quickly over the past five years, to 30 percent from 22 percent.
A green card system would also be launched within five years to enable expatriate Arabs and Muslims to live and work long-term in the country, Prince Mohammed said, in a major shift for the insular kingdom.
But the focus was on economic restructuring to help reduce oil dependence.
"I think by 2020, if oil stops we can survive," Prince Mohammed said. "We need it, we need it, but I think in 2020 we can live without oil."