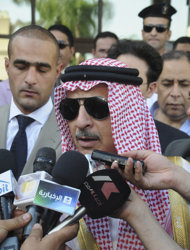 Saudi Foreign Minister Prince Saud al-Faisal on Sunday met with Mourad Mowafy, chief of Egypt's intelligence services, who is on a brief visit to Saudi Arabia, the state-run news agency MENA reported on Sunday.
They discussed bilateral relations and issues of common concern, added the report.
The meeting was also attended by Mostafa al-Bahary, deputy secretary of Egypt's General Intelligence Services, and Nasser al-Barik, Arab Affairs director at the Saudi foreign ministry.
The meeting came after a serious diplomatic rift between the two countries, in which Riyadh recalled its ambassador to Egypt in response to street protests in Cairo against the arrest of an Egyptian lawyer in Saudi Arabia.
On Saturday, the envoy returned to Cairo after a large parliamentary delegation visited Riyadh last weekend.