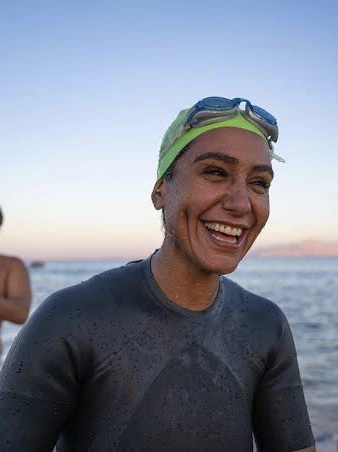 Saudi swimmer and doctor Mariam Saleh bin Laden managed to cross the Red Sea between Saudi Arabia and Egypt, the first Arab woman to do so.
Crossing the Red Sea was one of her dreams, she said, adding that her goal is to raise awareness of coral reef conservation.
Saleh managed to accomplish the task by swimming across the Strait of Tiran, according to al-Arabiya channel.
"I am very grateful to be the first Saudi, the first Arab and the first women to swim from Saudi Arabia to Egypt.. I never thought I would do this swim without a shark cage. But putting ourselves out of our comfort zones is what makes us stronger," she wrote on Instagram post.
"It's always been a dream of mine to swim from Saudi Arabia to Egypt. Today I finally did it. I am so grateful to have been introduced to @lewis.pugh . When I heard about his plan to swim across the Red Sea, I had to take this opportunity to join him," Saleh added.