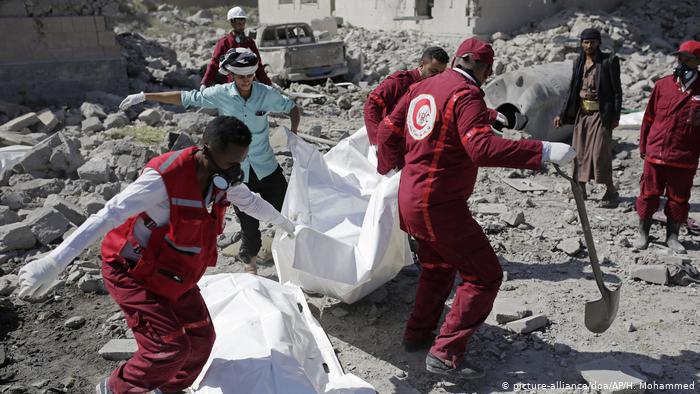 Airstrikes by the Saudi-led coalition fighting Houthi rebels in Yemen have killed more than 100 people held at a detention center, the International Committee of the Red Cross said on Sunday.
"We are taking these reports extremely seriously," said Frank Rauchenstein, who heads the ICRC delegation in Yemen. Rauchenstein said his organization estimates more than 100 people were killed in the attack.
"We have visited detainees in this location before, as we do in other places as part of our work," he said. "As we speak, the teams are working relentlessly to find survivors under the rubble."
The ICRC said it sent urgent medical supplies to treat up to 100 people who may be critically wounded along with 200 body bags.
Read more: Germany and Saudi Arabia: Weapons for a 'strategic' partner
No end in sight
Houthi authorities said that at least 70 pro-government fighters, who are allied to the Saudi-led coalition, were killed in the attack.
More than 180 prisoners of war were being held at the community college-turned-detention center in Dhamar, according to local news reports.
Saudi Arabia leads a regional coalition in support of the internationally recognized Yemeni government-in-exile led by President Abed Rabbo Mansour Hadi.
Its war against the Houthis has killed more than 10,000 people and left millions more on the brink of death from starvation and easily treatable diseases, including cholera. A political solution to the conflict has proved elusive for the international community.
Read more: In Yemen, 'nearly all children' at risk from war
ls/msh (AFP, dpa)