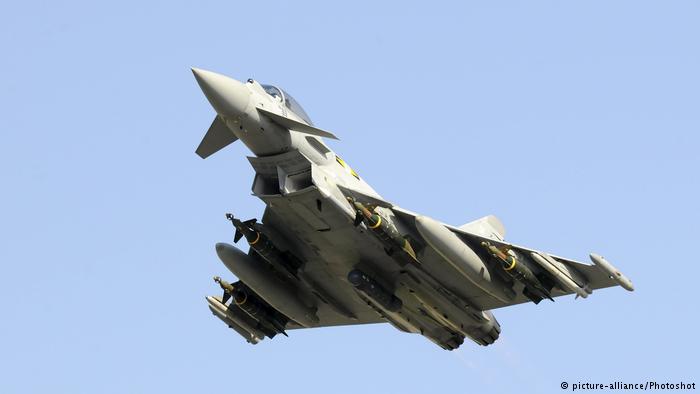 Britain on Friday signed a multi-billion-pound preliminary order for Saudi Arabia to purchase 48 Eurofighter Typhoon fighter jets, despite its criticism of the kingdom's war in Yemen.
The "memorandum of intent" to buy the jets came on the last day of Saudi Crown Prince Mohammed bin Salman's three-day visit to the UK.
"The Crown Prince's visit has opened a new chapter in our two countries' historic relationship," British Defense Secretary Gavin Williamson said.
"We have taken a vital step towards finalizing another order for Typhoon jets that will increase security in the Middle East and boost British industry and jobs in our unrivalled aerospace sector," he said.
'Shameful deal'
Military equipment maker BAE Systems will carry out the potentially lucrative deal, which has been under discussion for several years.
A Saudi-led military coalition has been fighting Houthi rebels in Yemen since 2015, with rights groups accusing both sides of carrying out possible war crimes.
Yemen's forgotten war: Locals tell their stories
"If agreed, this shameful deal will be celebrated in the palaces of Riyadh and by the arms companies who will profit from it, but it will mean even greater destruction for the people of Yemen," said Andrew Smith of the Campaign Against Arms Trade.
Human Rights Watch, which has documented multiple instances of Saudi warplanes bombing civilian targets and infrastructure in Yemen, slammed the jet sale.
"UK shamelessly selling Saudi 48 Typhoon jets, while Saudi air force continues to rain death and misery on Yemen," tweeted Philippe Bolopion, the deputy director for global advocacy at Human Rights Watch.
Rebranding the Kingdom
Prince Mohammed, who may rule Saudi Arabia for decades when the king dies, has sought to re-brand the image of the conservative monarchy.
But the war he launched in Yemen has tarnished his image as a reformer and moderate.
His visit to the UK was marred by street protests against arms sales to the kingdom.
Yemen was a topic of discussion at a private dinner inside May's country residence on Thursday night.
Germany earlier this year halted arms sales to the parties involved in the Yemen conflict, prompting Saudi Arabia to say it would find weapons elsewhere.