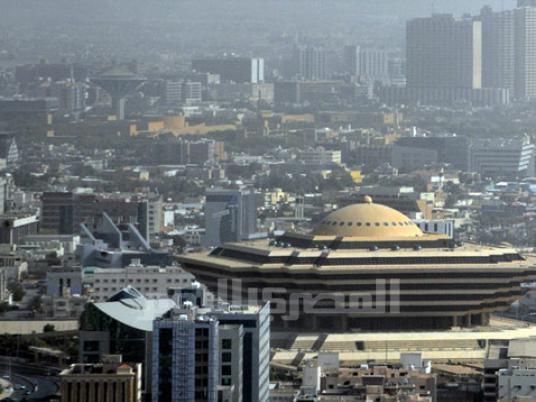 The Saudi Ambassador in Cairo and a the number of embassy and consulate employees will fly out of Cairo International Airport Saturday night on a private jet, following the Kingdom of Saudi Arabia's call for the ambassador to return for consultation.
Security sources at the airport confirmed that safety measures were being taken for Ambassador Ahmed Al Qattan's and other embassy employees' departure.
Also Saturday evening, Egyptian lawyer and human rights activist Ahmed al-Gizawy's wife, Shahenda Fathi, arrived in Cairo, traveling from the kingdom. Gizawy's detention in Saudi Arabia sparked the protests that led to the withdrawal of Saudi diplomats.
Earlier in the evening, Egypt's de facto leader Hussein Tantawi called senior officials in Saudi Arabia in an attempt to restore calm after the kingdom decided to recall its ambassador in Cairo and close its diplomatic missions in Egypt on Saturday. Saudi Arabia's move followed protests in front of its embassy in Cairo.
State owned MENA news agency said that shortly after the decision was announced, Tantawi called officials in Saudi Arabia in order to "solve the problem." MENA didn't give further details.
Earlier, as the situation escalated, the Saudi Press Agency (SPA) quoted an official Saudi source as saying that "the Kingdom of Saudi Arabia has decided to recall its ambassador to Egypt for consultations and close its embassy in Cairo and its consulates in Alexandria and Suez."
The source justified this unprecedented move as a necessary response to what he called "unjustified demonstrations and protests in front of the kingdom's missions in the Arab Republic of Egypt, attempts to storm them and threaten the security and safety of their Saudi and Egyptian employees, raising hostile slogans and violating the inviolability and sovereignty of these diplomatic missions, which is against all international norms and laws."
The source added that "the embassy and consulates were closed due to demonstrations disrupting their work on diplomatic and consular duties, including facilitating the travel of Egyptian workers, performers of Umra [pilgrimage to Mecca] and visitors to the kingdom."
Last week, Egyptians began protesting outside the Saudi Arabian Embassy in Cairo to denounce the detention of Egyptian lawyer and human rights activist Ahmed al-Gizawy in Saudi Arabia. Protestors say Gizawy was arrested for his critical views on the kingdom.
"The human rights activist used to call for the rights of the Egyptian detainees in the kingdom. He used to criticize the Saudi policy towards the Egyptians in the kingdom," said a statement by the Egyptian Organization for Human Rights (EOHR).
Saudi Arabia, however, said he was arrested for being in possession of drugs.
Gizawy's case represents a shift within the emerging revolutionary forces in Egypt, who are alarmed by reports of the mistreatment of Egyptians in Gulf counties, especially in conservative Saudi Arabia. The Saudi ambassador to Cairo said in February that 1,400 Egyptians are currently in Saudi jails.
The kingdom is alarmed by the anti-Saudi sentiments expressed by these revolutionary forces, who accuse Riyadh of acting as a catalyst for the counter revolution in Egypt.
Saudi Arabia offered asylum to deposed Tunisian President Zine al-Abidine Ben Ali and has also offered refuge to ousted Egyptian leader Hosni Mubarak.
The two counties enjoyed significant political cooperation during Mubarak's reign, as he had the same views as the conservative regime in Saudi Arabia on Iran's expanded political influence in the region.
Saudi Arabia is a favorite destination for Egyptians workers and professionals. The number of Egyptians living in Saudi Arabia are estimated at around 1.5 million. There are more than 700,000 Saudis living in Egypt.
Some are alarmed that the recent escalation might affect Saudi investments in Egypt, which are estimated to be worth around US$12 billion.
An Egyptian official told a Saudi paper on Saturday that the volume of trade between the two countries amounted to a gross of about $4.75 billion by the end of 2011, compared to $4.1 billion in 2010, meaning an increase of nearly 16 percent.