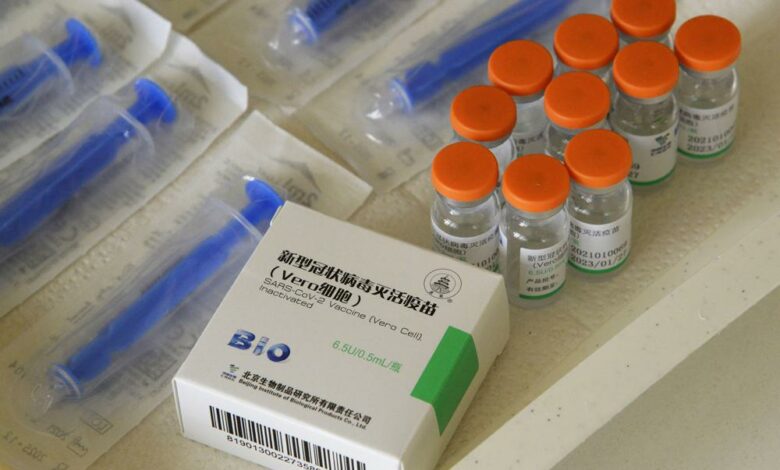 Egypt's Ministry of Manpower in Egypt announced Sunday that the Ministry of Health in the Kingdom of Saudi Arabia (KSA) has approved several vaccines to enter its territory.
These include the Pfizer-Biontech, Moderna, Oxford-AstraZeneca, Janssen, Sinopharm and Sinovac vaccines.
The ministry explained that Minister of Manpower, Mohamed Saafan, received an urgent report from the Ministry's Labor Representation Office at the Egyptian Consulate General in Riyadh stating that the KSA's Health Ministry had determined the approved vaccines to enter its territory.
The Labor Representation Office at the Egyptian Consulate General in Riyadh is following up on the conditions of Egyptian workers in the countries of work, it added.
It is providing them with all support and assistance, especially after the spread of the coronavirus, to preserve the rights of Egyptian workers which may be affected by some of the measures taken by some countries.
The acting head of the labor representation office in Riyadh Karim Abul-Saud, explained that the Health Ministry in KSA stipulates that the citizen may obtain a booster dose of one of the approved vaccines inside Saudi Arabia after reaching it, provided that the citizen initially registers the vaccine data obtained at home on the website of the Health Ministry.
In order for a citizen wishing to register on the website to be considered, several conditions are required: ensuring the validity and accuracy of the information entered as entering wrong information may lead to the rejection of the application, and it is required to have a national ID, or the ID of a resident to receive the application, and that the entered documents be in PDF format.
Abul-Saud added that it must be ensured that the certificate complies with several requirements, which are: that the personal data be indicated in the certificate, and that it be issued in Arabic, English, or French, or a certified translation into Arabic, and that the certificate clearly contains the name of the vaccine, date, and batch number.
He stressed the need to attach with the request a copy of the passport and a copy of the vaccination certificate, and the citizen's application is considered and answered within five working days.
The medical committee reserves the right to reject any request, or impose additional requirements as it deems appropriate after reviewing it.
Abul-Saud stated that the decision to specify the approved vaccines to enter the KSA's territory is a breakthrough in the position of Egyptians currently at home at the present time.
Edited translation from MENA