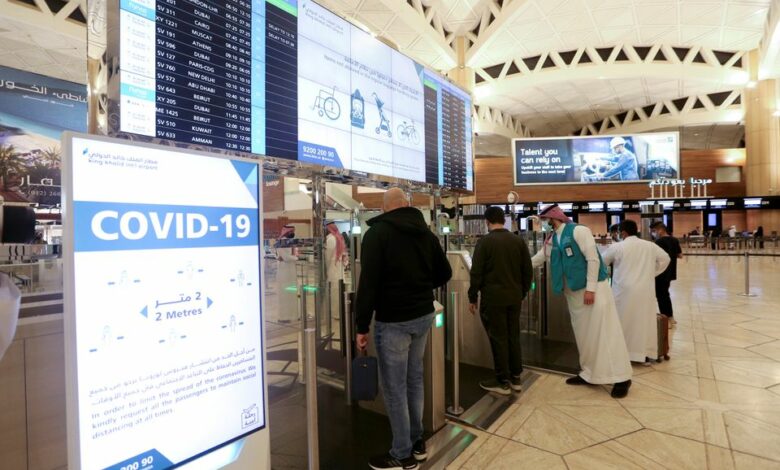 Saudi Arabia announced that it will now allow fully vaccinated expatriates to enter the Kingdom from countries facing a travel ban, including Egypt.
Other countries on the list include India, Pakistan, Indonesia, Turkey, Argentina, Brazil, South Africa, the United Arab Emirates, Ethiopia, Vietnam, Afghanistan and Lebanon.
The new decision only applies to foreigners with a valid residency permit and left the Kingdom on a reentry visa. They also must have received the vaccine doses in Saudi Arabia.
Egypt's Minister of Manpower Mohamed Saafan said on Tuesday that the Kingdom's decision concerns many Egyptian expatriates who work in Saudi Arabia.
During a phone call with TV host Ahmed Moussa on "Ala Massoulity" (On My Responsibility), Saafan said that the resident, upon his arrival in the Kingdom, is subject to home isolation for a period of seven days.
He noted that the penalty for violating the Kingdom's precautionary measures reaches 10,000 riyals, appealing to Egyptians to comply.
Saafan concluded that there are large numbers of Egyptians who were waiting for this decision allowing them to return to their work abroad.
Saudi Arabia had temporarily suspended all international flights on March 15 following the outbreak of the virus. It has since resumed such flights, however, some countries remain blocked due to their pandemic outlook.
___
IMAGE: Saudi nationals scan their documents at a digital-Immigration gate at the King Khalid International Airport, after Saudi authorities lifted the travel ban on its citizens after fourteen months due to coronavirus disease (COVID-19) restrictions, in Riyadh, Saudi Arabia, May 16, 2021.