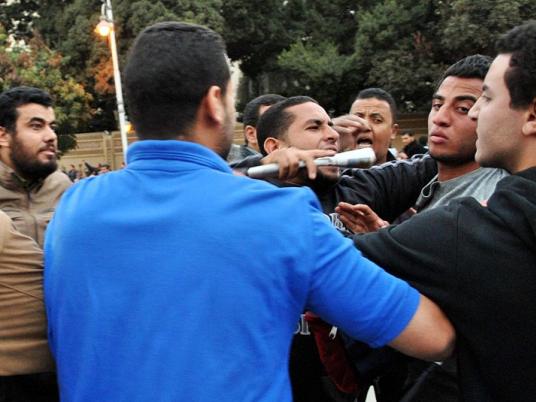 Dream TV, Al-Hayat, CBC and ONTV decided to end a blackout in protest against restriction of free expression in the new constitution and start broadcasting Wednesday night to cover the clashes at the presidential palace.
Wael al-Ibrashy, a presenter at Dream, said the channels decided to cancel the blackout "to expose the scheme of the Muslim Brotherhood to ignite a civil war between the Egyptian people" after Brotherhood supporters were sent to "protect legitimacy" against an opposition sit-in there.
Ibrashy said in a press statement on Wednesday, "We responded to the calls of hundreds of thousands of citizens not to leave the scene during such a sensitive time"
The media would be betraying its basic purpose, in Ibrashy's opinion, if it failed to expose these schemes, "therefore we decided to cancel the blackout so as not to leave the [media] arena to one viewpoint that would deliberately ignite a civil war."
He stressed that all TV shows have returned on Wednesday.
The official ONTV Twitter account posted, "We continue the coverage due to the developments of events and to what duty requires."
The satellite channels had decided to blacken screens, as newspapers, TV channels and news websites went on strike Tuesday to reject the constitutional declaration and the new draft constitution.
Edited translation from Al-Masry Al-Youm