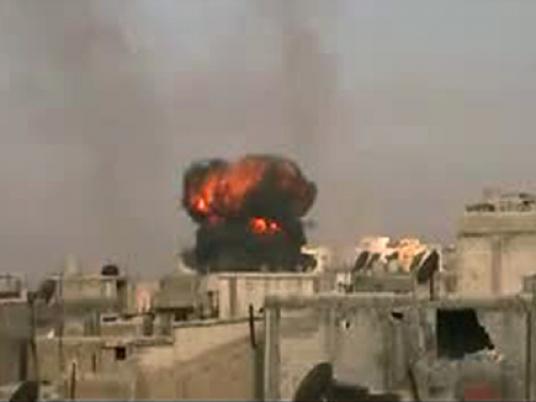 Syria is finding it increasingly hard to buy grain on international markets because sanctions have blocked its access to trade finance, while growing numbers of its citizens are struggling to obtain food after more than a year of conflict.
The European Union, the US and other Western countries have imposed sanctions on President Bashar al-Assad's government in response to his bloody crackdown on a revolt that has cost more than 10,000 lives.
The measures, which include asset freezes and financing restrictions, have hurt Syria's vital commercial grain trade.
Syria relies on food imports for almost half of its total needs, with wheat used for food, while maize and barley are used mainly for animal feed.
"Syria has deep problems at the moment finding companies willing to offer grain such as barley. You can't open a letter of credit and the risks associated with any deal seem to be rising all the time," one trade source said.
"The Commercial Bank of Syria [the country's largest state-owned bank] is not accepted anymore and there are currency related difficulties, so they are going to find it hard to meet their grain needs."
A Syrian state agency issued an international tender last week to buy 150,000 tons of feed barley. Last year it tendered to buy 500,000 tons of feed barley but failed to do so.
"Due to the problems they are facing, they are now having to tender for smaller parcel sizes," the source said.
Last month the United Nations' Food and Agriculture Organization forecast that Syria's cereal import needs in the marketing year 2011/12 would rise to 4 million tons, 1 million tons higher than the previous year.
Separately, the International Grains Council has forecast Syria will need to import 900,000 tons of wheat in 2011/12, up from 500,000 tons in 2010/11.
"Syria is facing trade problems and based on anecdotal reports what seems to be happening now is that companies are pulling out of the country due to the security and operating risks, so that is a challenge for the government in terms of imports," Henry Wilkinson, head of intelligence and analysis at the Risk Advisory Group, said.
"In Syria bread is subsidized, so controlling bread prices will be an important strategy for the government."
Humanitarian aid
A confidential United Nations aid document obtained by Reuters showed at least 1 million Syrians need humanitarian aid.
"Access to food has become an increasing issue in Syria," the UN aid document said.
"Over the past 12 months, there have been sharp increases in food prices in many locations, unemployment has risen, the Syrian pound has depreciated in value, and many of those who have relocated no longer have access to subsidized food," the document said.
In Damascus, residents agree. They say prices have more than doubled — sugar, rice, meat, grocery and restaurants bills have all gone up. Some people said they were stocking up with supplies that would last them at least a month.
Syria has not published economic figures for a year, making it hard to assess accurately the impact of the unrest and sanctions. Louay Hussein, an opposition figure, estimated unemployment as high as 80 percent.
"There is no work, no business, and nothing is working," he told Reuters in Damascus.
"Now in Syria people are only buying the basics. And some people do not have money any more to buy the basics and are living on support from others," he said.
While Western sanctions are not meant to target food imports, the complexity of trade, including extensive due diligence, is expected to weigh on deals. Legal specialists say for companies operating in the EU, dealing with Syrian state entities involved in food or receiving payments over a certain amount require authorization from national authorities.
"No big player would want to burn their fingers on Syria at the moment and when it comes to selling on your own name or account, forget it — there are just too many hurdles," another trade source said.
In contrast, Iran — Syria's main ally in the Middle East — has managed to purchase over 2 million tons of milling wheat in recent weeks, after the Islamic Republic managed to sidestep Western sanctions using alternative financing routes.
Trade sources said the possibility of merchant vessels being stopped by authorities looking for weapons bound for either Assad or the rebels was another disincentive.
Last week, Lebanese authorities seized a consignment of weapons on board a container ship heading to the Lebanese port of Tripoli. The weapons could have been transported by land from Tripoli to Syrian rebels.
"The trade fears more monitoring of merchant vessels in the Mediterranean by authorities looking for weapons bound for Syria, which is going to create extra problems and raise … costs," another trade source said.
Rising food prices
With the violence continuing despite a cease-fire negotiated last month, the World Food Programme said the number of people to whom it was supplying aid in Syria was expected to rise to half a million in coming weeks from the 250,000 assisted during April.
"Informal observations and field monitoring have shown that vulnerability to food insecurity has increased dramatically in areas affected by the unrest," WFP spokeswoman Abeer Etefa said.
"Overall poverty levels are also increasing, access to basic supplies and services is deteriorating; since May 2011, prices of most items, notably food and fuel, have risen by approximately 50 percent and the Syrian pound has devalued by approximately 50 percent against international currencies," she said.
Trade sources said Syria may need to source its imports via neighboring countries such as Jordan and Lebanon and smuggle it in using trucks and railcars.
"The only way it looks like they will meet some of their needs in the short term is by smuggling across the borders," a trade source said. "They may also start to use middle men in places like China and Russia."
Trade sources added Iran, despite facing sanctions itself from the West, was expected to be asked to assist with Syria's grain imports. Such consignments could be transported via Iraq or bought on behalf of Syria using networks set up by Iran.
Iran signed a free trade agreement with Syria last week, Iran's state-run Press TV said on its website.
"Iran has managed to get round the trade finance restrictions and is importing grain, and we should see Syria using the Iranians for grain but that will take time," another trade source said. "In the meantime, Assad is in the firing line with the West and needs to find solutions fast."