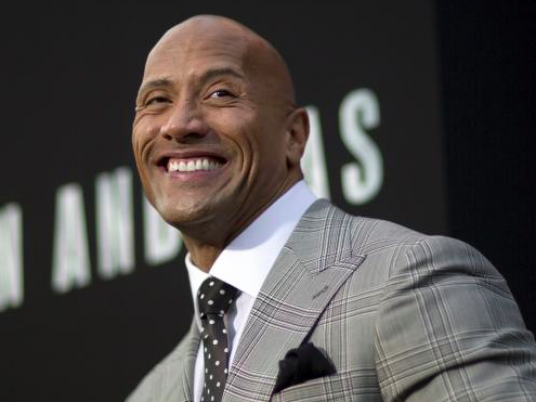 Dwayne Johnson's "San Andreas" has delivered a dominating $53.2 million opening weekend at 3,777 U.S. locations, soaring past recent forecasts of a $40 million launch for the Warner Bros.-New Line 3D disaster pic.
"San Andreas" took in more than five times as much as the $10 million opening of Sony's romantic comedy "Aloha," which arrived at 2,815 sites amid extensive negative buzz — despite the starpower of Bradley Cooper, Emma Stone and Rachel McAdams. Sony distribution chief Rory Bruer noted that "Aloha," launched as a counterprogramer to "San Andreas," received a B+ CinemaScore among adults 25-34; the audience was 64% female with 57% of the audience over 30.
"San Andreas" underlines Johnson's drawing power in the wake of being a key component of Universal's "Furious 7" and its $1.5 billion worldwide gross. He's been front and center in the promotion for "San Andreas," where he plays a heroic helicopter pilot seeking to rescue his daughter, played by Alexandra Daddario, amid the rubble of a mega-quake.
Paul Dergarabedian, senior media analyst at Rentrak, noted that "San Andreas" gained momentum throughout the weekend due to the film delivering what he called "pure popcorn movie excitement."
"Johnson is clearly one of the most bankable stars working today," he added. "Johnson's versatility, charisma, humor and his imposing physical presence on the big screen has made him the go-to guy for filmmakers looking to ratchet up the excitement level and drawing power of their films."
"San Andreas," which also stars Carla Gugino and Paul Giamatti, earned an impressive A- CinemaScore from audiences, with 70% coming from the over-25 demo. Dan Fellman, Warner's domestic distribution chief, said Johnson deserves much of the credit.
"He's a four-quadrant, larger-than-life movie star," Fellman said. "This is going to have great legs."
Village Roadshow Pictures co-financed and co-produced "San Andreas" with Warners for $110 million, with most of the film lensing in Australia to take advantage of government incentives.
Universal's third weekend of "Pitch Perfect 2" led the rest of the pack, finishing with $14.8 million at 3,660 locations. The comedy sequel, which carries a modest $29 million price tag, has outperformed expectations with a total of $147.5 million in 17 days in the U.S. with another $80 million-plus internationally.
Disney's second frame of George Clooney's "Tomorrowland" finished at a close third with $13.8 million for a $63.2 million 10-day total. The high-priced fantasy, with a $180 million budget, isn't showing much traction with a 58% decline from its opening weekend.
On the foreign front, "Tomorrowland" hasn't dazzled either. It took in $29.3 million from 75 markets, including $13.8 million from its first six days in China, to lift international grosses to $70 million.
"Tomorrowland" edged Warner's third weekend of "Mad Max: Fury Road," which motored to $13.6 million at 3,255 sites. The Tom Hardy-Charlize Theron tentpole declined 45% and has totaled $115.9 million in the U.S in 17 days.
Disney-Marvel's fifth weekend of "Avengers: Age of Ultron" finished fifth, ahead of "Aloha," with $10.9 million at 3,228 sites, declining 50%. The tentpole has hit $427.1 million — passing "The Hunger Games: Catching Fire" for the 10th spot on the all-time list of top domestic grossers.
"Ultron" took in $17.6 million overseas to push its international total to $894 million and its worldwide take to $1.32 billion, the sixth highest total of all time.
Despite "San Andreas," the overall weekend was down around 20% compared with last year's post-Memorial weekend when Disney's "Maleficent" opened with $69.4 million and Fox's "X-Men: Days of Future Past" took $32.6 million in its second frame.