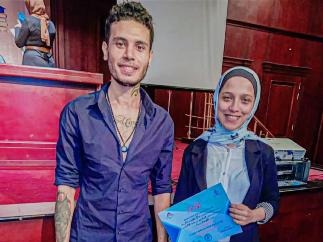 The public prosecutor referred Islam Mohamed to a criminal trial to over charges of premeditated murder of Salma Bahgat in Zagazig, Sharqiya Governorate.
The public prosecutor's statement on Thursday stated that the accused had the intention and determination to kill Bahgat after she and her family rejected his marriage proposal due to what they described as abnormal thoughts and misbehavior and her failure to communicate with him on this.
They added he threatened to kill her and some of her relatives if their rejection continued.
"And because they ignored his threats and banned him from communicating with them by any means, he tricked one of her friends until he learned from her the date of her meeting with [Bahgat] in a property in Zagazig, and chose that time to kill her," the statement added.
The accused preceded the victim to the property, bought a knife, and waited for her at the entrance of the property. When she arrived he stabbed her with a knife several times, killing her.
The Public Prosecution established the evidence in forty-eight hours of the crime, and took the testimony of fifteen witnesses. Prosecutors relied as well on the forensic report of the victim's body, and examined the phones of the victim, her friend, and the perpetrator which brought evidence against the murderer.
The murderer admitted committing his crime on all accounts during interrogations.