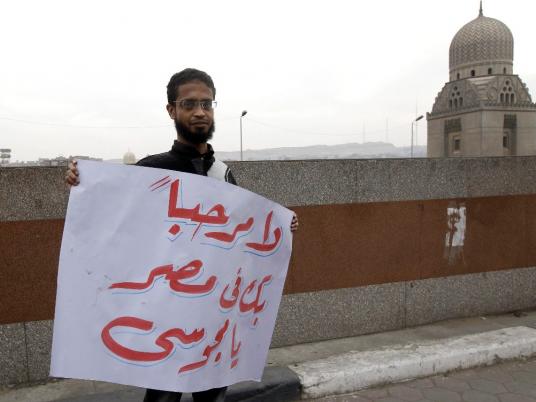 The Salafi Dawah and the Nour Party are launching campaigns against Egypt's warming ties with Iran, leading Salafi sources have told Al-Masry Al-Youm.
The groups will stage a series of Friday protests outside the residence of Iranian Ambassador Mojtabi Amani, which will be followed by demonstrations outside the Muslim Brotherhood's headquarters.
Sources also added that a panel, led by Salafi Dawah deputy chairman Ahmed Farid and comprising lawyers, preachers, Nour Party MPs and business and media figures, will press the Egyptian government to revoke bilateral agreements between the two countries and reject Iranian tourists.
The panel will also submit monthly reports tracking Shia "publications and rituals" in Egypt.
"The Salafi Dawah has decided to counter the Shia tide in Egypt," its deputy chairman, Sheikh Yasser al-Borahmi, told Al-Masry al-Youm.
Borhami added that the group will hold seminars to educate citizens about the "danger of Shias," while also criticizing the president and the government for ignoring his advice to distance the country from Iran, and from Shias in general.
Waleed Ismail, leader of the Coalition for the Defense of the Prophet's Companions and Household, said his group will also join the protests Amani's residence and accused him of being ambiguous about the intended destinations of Iranian tourists.
"The Friday after next, we will protest outside the [Muslim Brotherhood's] Guidance Bureau in Moqattam to send a message to President [Mohamed] Morsy that we do not want Iranian tourism in Egypt, and that we shall never accept his rule so long as he seeks to … turn Egypt into another Syria or Iraq," he said.
Ismail also alleged that Shias had established a site for "rituals" in Ras Ghareb in Red Sea Governorate, adding that his group would destroy the site if the government did not.
The protests against renewed Egypt-Iran ties and Iranian tourists in Egypt signal the deeply held antipathy that some Salafi and conservative Sunni Muslim groups hold toward Shia Muslims. Many have used the recent visit of Iranian President Mahmoud Ahmadinejad to inveigh against alleged Shia plots against the country.
Egypt is overwhelmingly Sunni Muslim, while Iranian's population is heavily Shia.
Edited translation from Al-Masry Al-Youm