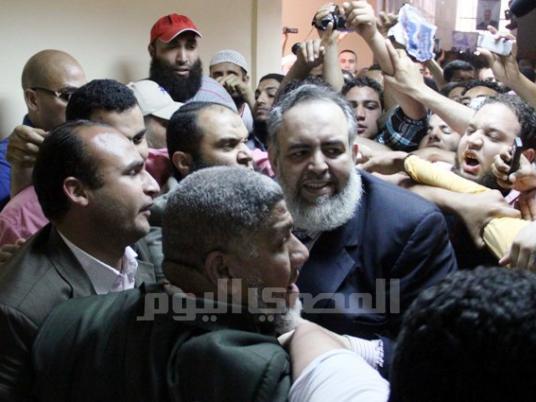 Egypt's Salafi presidential candidate Hazem Salah Abu Ismail claimed a moral victory on Wednesday when a court ruled that authorities must provide proof that his late mother did not hold dual nationality, which would prevent him running.
Thousands of supporters of Abu Ismail chanted "Egyptian, Egyptian" as they shot fireworks skywards, many crying in joy and praying. They had rallied outside and inside the court that had been in session since the morning, seeking to flock around the sheikh, who they say is the victim of a smear campaign.
He has emerged as one of the frontrunners for the first presidential vote since the fall of Hosni Mubarak, but the electoral commission said it had received notification from American authorities that his late mother had a US passport, a status that would likely disqualify him from the race.
Abu Ismail, an ultra-conservative who preaches a strict interpretation of Islam, filed the case against the Interior Ministry requesting that it hand over documents to show she held no dual nationality. The court ruled in his favor.
"The court ruled that the Interior Ministry … hand over a certificate to Hazem Salah Abu Ismail to prove that his mother had no other nationality besides her Egyptian nationality," Judge Abdel Salam al-Nagger said, of the ruling in his favor.
Abu Ismail's lawyer said the ruling, which would appear to confirm she was Egyptian, was a "historic victory."
But it does not rule out the possibility that other authorities besides the Interior Ministry — especially US authorities — could have evidence that his mother held US citizenship, meaning the speculation will linger.
"The ruling on the nationality of Abu Ismail's mother has brought matters back to point zero and did not answer the question of whether she had a foreign nationality," legal expert and rights activist Hafez Abu Saeda said on Twitter.
Under Egypt's election rules, both a candidate's parents must be Egyptian and with no dual citizenship.
Protest
The populist sheikh's followers accuse Western countries and Egypt's ruling generals, worried by his push to impose Sharia, Islamic law, of trying to eliminate him from next month's ballot. They held a mass protest last Friday.
Abu Ismail has repeatedly warned that authorities had presented no concrete evidence to show his mother was an American citizen, promising to retaliate against what he described as a conspiracy.
"The people want Hazem as president," the crowds chanted before the verdict, as Abu Ismail frequently exited the court's chambers to greet his supporters with a smile.
Tense security had gathered around the court house. Soldiers watched as his supporters started chanting "the struggle is on if there is corruption."
"We will die for him. We will kill for him, if he does not run in the presidential race," shouted one of Abu Ismail's supporters once the court's doors cracked open.
Abu Ismail has mostly sought to undermine the evidence against him by saying authorities had not presented an actual passport but used travel documents.
"I believe in him. He is the only candidate who is pro-revolution and he has never lied or changed his position to please someone or any authority," said 25-year old Ayman al-Said, who said he joined the campaign three weeks ago.
Correction: An Egypt Independent article published 11 April inaccurately described the court verdict as ruling on the citizenship of Abu Ismail's mother.