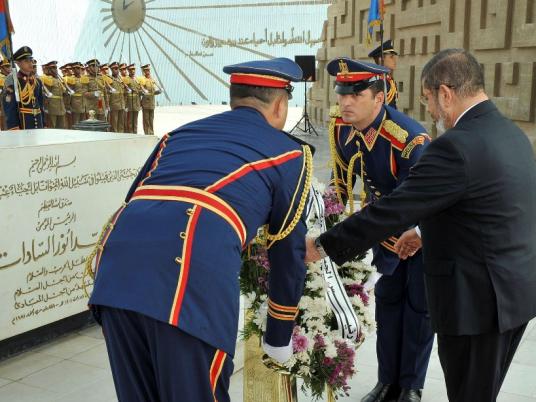 Roqaya al-Sadat, daughter of late president Anwar al-Sadat, said US newspapers have recently published official documents that indicate former president Hosni Mubarak was involved in her father's assassination.
Sadat added that Mubarak left the platform where Sadat was sitting ten minutes before her father was killed.
During a talk show aired on the privately-owned TV channel Rotana Masriya on Tuesday, Sadat said, "God wanted my father's death to come on the day of his victory, but it still hurts me. I do not have a personal vendetta against Mubarak, I only want to get to the truth, which is why his name is involved in the lawsuit in which I accuse him of killing Sadat. I don't talk to him, although I saw him several times in different occasions with my father."
"I will continue the lawsuit to the end. How could a person access a military parade wearing sneakers and holding weapons if there were no hidden hands that facilitated his access?," she wondered expressing her willingness to "reach these people".
Moreover, Sadat also said that "Mubarak's regime used to hide her father's accomplishments. I went to Sharm el-Sheikh and searched on all the streets for anything referring to my father or any street that was named after him that would acknowledge his accomplishments, being the person who restored the land to us, but found nothing."
"All the army corps that took part in the victory did not get enough recognition for taking part in the war. Was it only the Air Force that took part in the war?" she wondered.
She went on to say, "The first martyr of the October war came from the Air Force. It was my uncle Atef al-Sadat, which means that the first war victim was from the Sadat family. In the end, the details of the war were written down in shorthand, saying that Mubarak was the hero of war and peace."
Sadat began a lawsuit in 2011, claiming Mubarak was involved in her father's death. The lawsuit allegedly seeks to bring about Mubarak's arrest, trial and subsequent death sentence.
Edited translation from Al-Masry Al-Youm