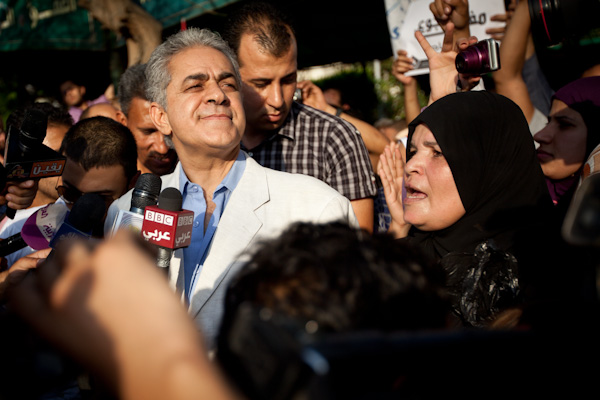 Popular Current founder Hamdeen Sabbahi rejected an overture from former Prime Minister and presidential candidate Ahmed Shafiq to join the National Salvation Front.
Sabbahi, during an interview with the privately owned Dream satellite channel Saturday, said that such a move would be a "mistake," describing Shafiq as an integral part of former President Hosni Mubarak's regime. He also said he opposed any move by the Armed Forces to rule the country once again.
Sabbahi also claimed that neither the National Salvation Front nor the Popular Current are seeking a position in the government, saying they were instead seeking the dismissal of Prime Minister Hesham Qandil's current government and the appointment of a new prosecutor general, as well as a national dialogue and a new election law.
He added that the opposition mainly demands the right to have a say in naming a new prime minister and new interior, justice, local development, information, supply, youth and foreign affairs ministers, all of whom he said would have an impact on the electoral process.
Saying that calls for the Armed Forces to take over were symptomatic of the Muslim Brotherhood's inability to bring stability to the country, as well as fears over violence from vigilante groups, Sabbahi also said the opposition had not yet shown people its ability to provide a political alternative.
The opposition leader also blamed the recent clashes in front of St. Mark's Coptic Orthodox Cathedral in Cairo's Abbasseya neighborhood on the country's Brotherhood rulers.
"President [Mohamed] Morsy is closer to the form of a preacher [than] to that of a statesman and a leader," Sabbahi said. "The attack on Al-Azhar and the cathedral is a shame, and facing [such attacks] is the duty of all Egyptians."
Sabbahi also accused the US of "playing a role in embracing the regime of the Brotherhood and supporting it as it serves their interests."