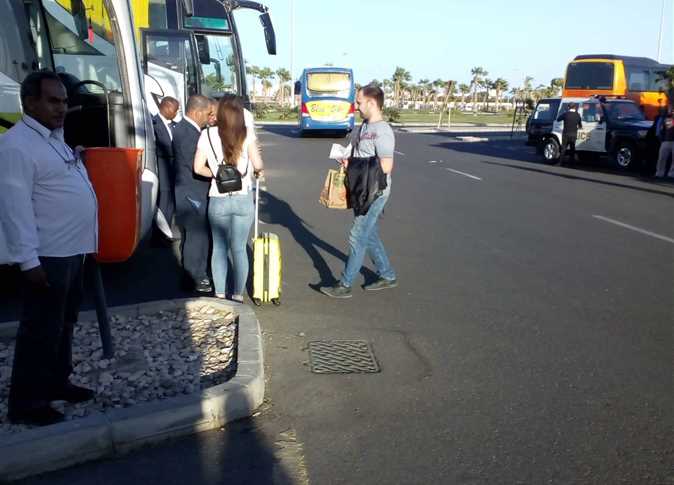 The Russian tourists who arrived on the first flight to Hurghada on Thursday expressed their happiness to return to Hurghada, the Red Sea, and enjoy the warm sun and sea water, hoping flights continue during the coming period.
There was optimism among the workers in the tourism sector in the Red Sea, hoping for full resumption of Russian tourism directly between Hurghada and Russian cities.
Hurghada International Airport received on Thursday the first flight from Russia via the Turkish Antalya Airport through one of the largest Russian tourism companies.
The company and the airport held a ceremony to mark the beginning of the inauguration of this airline, receiving the tourists with roses and music in the presence of delegates to facilitate the arrival procedures of the tourists.
Mostafa Refaei, director of Pegas in Hurghada, one of the largest Russian tourism companies in Egypt, confirmed the operation of an airline from Russia to Hurghada International Airport via Antalya Airport in Turkey to transport Russian tourist delegations, adding that the first flight transported some 220 Russian tourists.
Refaei said that the total number of flights to be received in February are seven flights to Hurghada Airport.
For his part, Mahmoud Abdel Ghani, the official of the tourism company in Hurghada Airport, said that the company is scheduled to organize the second flight to Hurghada on Friday through Antalya Airport in Turkey with the same number of tourists.
The head of the Tourism Guides' Syndicate in Hurghada, Bashar Abu Taleb, said that the new airline is expected to receive high demand from Russian delegations wishing to spend holidays in Egypt.
Sources at the Russian company said that about 15 cars and buses from the company were positioned to transport tourists to hotels and tourist villages, and they are scheduled to transport them to about 12 hotels and tourist villages in various resorts in Hurghada.
Edited translation from Al-Masry Al-Youm