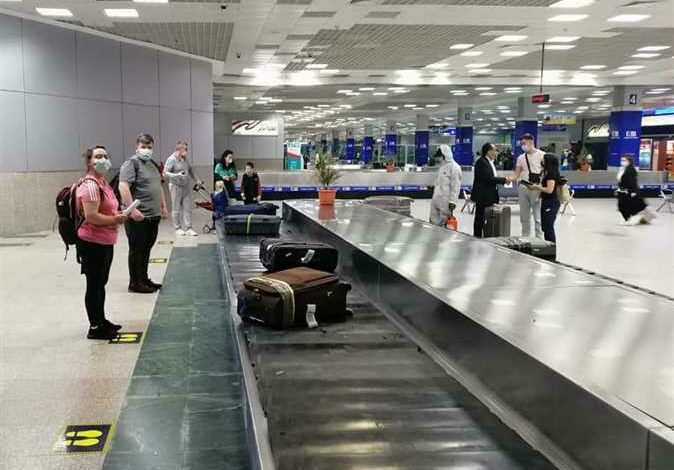 A team of security experts, affiliated with the Russian Transport Ministry took over lounges and counters designated for Russian tourists at Sharm el-Sheikh and Hurghada airports in order to inspect the terminals before the takeoff of the flights.
This comes a few hours before the arrival of the first flights from Moscow to Hurghada and Sharm el-Sheikh airports on Monday.
According to sources, this comes according to a protocol signed between Egypt and Russia to establish a Russian security team to inspect passenger luggage, counters and planes heading to Russian cities to finalize travel and arrival procedures for Russian tourists.
Navigational sources at the two airports confirmed that about 15 Russian security personnel at each airport will be present to review the travel procedures on Russian planes, and that counters and two travel and arrival halls have been allocated to finalize the procedures for Russian tourists.
These regulations come in preparation for the arrival of the first direct flights to Sharm el-Sheikh and Hurghada airports, on Monday.
Each airport is set to receive five direct flights per week. These flights may increase following a report on the results of the Russian health delegation's visit.
Officials at the Hurghada and Sharm el-Sheikh airports have completed full preparations to receive Russian tourists on Monday, and assured the strict implementation of all precautionary measures.
Flights between Russia and Egypt had been fully suspended in November 2015 after a passenger plane operated by Russia's Kogalymavia airline traveling from Sharm el-Sheikh to St. Petersburg exploded over the Sinai Peninsula, killing all 217 passengers and seven crewmembers on board. The Russia's Federal Security Service (FSB) qualified the incident as a terror attack.
In January 2018, Russian President Vladimir Putin signed an executive order to resume regular flights to Cairo but charter flights to Egyptian resorts remained suspended.
Over the past few years, Egypt has dramatically improved its system of checks for passengers and luggage, and tremendously improved its airport infrastructure.
On July 8, Putin struck down the order signed in 2015 which banned flights to Egypt's resorts operated by Russian airlines.