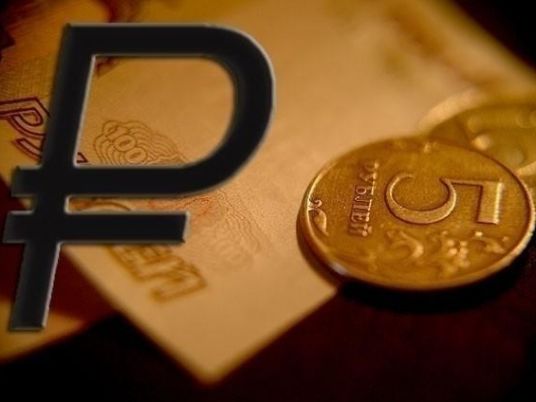 The Russian ruble rose against the US dollar, hitting its highest level since July 2015.
This could raise the Russian Central Bank's concern about undermining the competitiveness of Russian exports.
The Russian currency rose by 1.7 percent to 55.44 rubles against the US dollar, recording gains of about 35 percent since the beginning of this year.
The currency's gains came despite the Russian Central's cutting interest rates by 1,050 basis points (equivalent to 10.5 percent) since the beginning of the Ukrainian crisis.
For his part, Russian Deputy Prime Minister Andrey Belousov stressed that the issue of the ruble exchange rate at ideal levels is important for the Russian economy, and indicated that the authorities, including the government and the Russian Central Bank, are discussing the issue of moving to targeting the ruble and not inflation.
On the sidelines of the Saint Petersburg International Economic Forum, the Russian official said that the optimal exchange rate for the Russian currency for the Russian economy is in the range of 70-80 rubles, so it is necessary to return to this level as soon as possible.
It is noteworthy that the US dollar index, which measures its value against a basket of 6 currencies, including the euro and the yen, fell 0.25 percent to 104.44 yen, but remained close to its highest level in 20 years, which is 105.79, recorded on Wednesday, the day the Federal Reserve (the US central bank) raised the interest rate by 75 basis points in an attempt to contain inflation.
The Russian ruble jumped to its highest levels in seven years against the US dollar and the euro on the Moscow Stock Exchange, on Wednesday, supported by restrictions on capital movements and tax payments at the end of the month.
At 1600 GMT, the ruble was up 3.22 percent at 53.84 against the US dollar, its strongest level since June 2015.
Against the euro, the ruble rose 4.02 percent to 56.48, its highest level since May 2015.
The ruble, which has become the world's best-performing currency this year, has been boosted by rising Russia's revenue from commodity exports, a sharp fall in imports and a ban on household withdrawals from foreign currency savings.
The ruble also received a boost from corporate tax payments early next week. For companies that focus on exports, this means converting their revenue in dollars and euros into rubles.