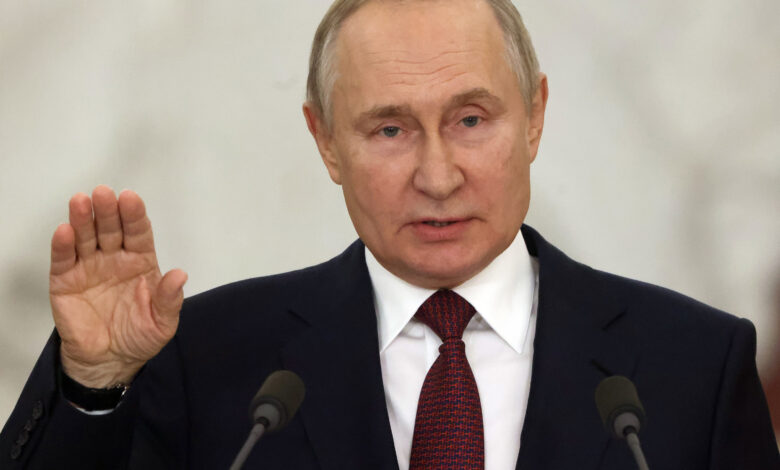 Russian President Vladimir Putin inaugurated the Russian-African summit on Thursday amid a high-level presidential participation, with Putin noting that the involvement of African leaders in the summit is important despite western sanctions on his country.
He also pledged to supply various African countries with grain and wheat – free of charge.
In exchange for means of transportation various countries including Burkina Faso, Somalia, Zimbabwe, Central Africa and Eritrea attended in the presence of about 17 presidents and a number of heads of government and ministers.
More than a thousand people were present inside the main hall, which included high-level African personalities, journalists and media professionals from various African countries, including 'Al-Masry Al-Youm' by invitation of the Transmash Railway Company .

Putin started his speech by thanking the participants in the summit during the plenary session of the Russian Economic and Humanitarian Forum.
He noted that Africa has clear and great potential and Moscow is working to deepen trade relations and increase trade exchange, adding that trade relations witnessed growth despite Western sanctions.
Putin pointed out that 11.5 million tons of grain were provided to Africa in 2022, and 10 million tons in the past six months of this year.
The West is obstructing Russia in supplying grain to Africa and accusing it at the same time, he stated.

On the topic of Russian cooperation with African countries, Putin said that a Russian industrial zone is being established in Egypt's Suez Canal, and awareness is being raised on production capacities this year in order for exports to African countries to take place alongside cooperation with Cairo in the field of gas.
"We expect it to start constructing the first production facilities in the Suez Canal so that goods can be exported to all countries of the continent," the Russian President said.
He pointed out that there is also cooperation in place with African countries in the information communications sector, the media field, and artificial intelligence.
The Russian President also pledged to provide support to African countries to operate similar systems in the field of communications, the economy and dealings in the Russian local currency – the ruble.
"We are ready to link banking institutions with a transfer system that allows the exchange of payments regardless of western sanctions," he said.
Putin also suggested merging educational curricula, especially teaching the Russian language in Africa, noting that there are 10,000 Africans studying in colleges and medical institutes across Europe.
He noted that Russia is one of the first countries to provide cooperation and support in the face of the coronavirus pandemic, as it sent millions of medical examinations to the continent and has worked on conducting medical examinations with South Africa on the discovery of new drugs.
Putin also called on young people and athletes to participate in sporting events, which will be held in February and next March, to visit the city of Sochi.
And he suggested drawing up a unified information space with Russia and Africa through cooperation in the field of neutral and unbiased media.
There are sanctions that put obstacles to the transfer of fertilizers, Putin said, noting that while Russia transported 32 million tons of Ukrainian wheat within a year, 70 percent of them went to high-income countries, and in return African countries such as Sudan, Somalia and Ethiopia got less than 35 percent.
Russia then canceled the deal while pledging to compensate the grain through commercial or free supplies, Putin added, expecting to produce a record crop for its country this year.
He explained that Ukraine produced 55 million tons of grain this year and exported 47 million tons of wheat, while Russia produced 156 million tons of grain and exported 60 million tons of wheat.
Russia produces 205 percent of the total global production, compared to five percent for Ukraine, he said, adding that, "Russia contributes to global food security and works to avoid a food crisis."