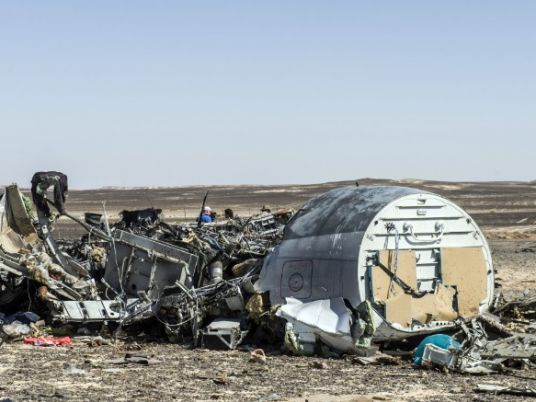 A Russian passenger jet broke into pieces in midair, a top aviation official said Sunday, but he said it was too soon to say what could have caused the crash in Egypt's Sinai Peninsula.
The plane crash Saturday morning killed all 224 people aboard Kogalymavia Flight 9268 and left debris strewn across a remote area of a region plagued by a violent Islamic insurgency.
"Disintegration of the fuselage took place in the air, and the fragments are scattered around a large area (about 20 square kilometers)," Viktor Sorochenko, executive director of Russia's Interstate Aviation Committee, told journalists, according to reports.
Footage from the scene showed mangled wreckage and piles of belongings from the plane spilled over a largely flat, barren landscape.
Learning that the plane broke into pieces while in the air helps narrow down what could have caused the crash, but there are still plenty of possibilities, one expert said Sunday.
"It narrows it down a little bit, but there are a number of issues that could have affected this plane," said Peter Goelz, a CNN aviation analyst and former managing director of the US National Transportation Safety Board. "And terrorism has not been ruled out.
"It could have been some sort of catastrophic failure, perhaps caused by an earlier maintenance problem. It could have been a center fuel tank that might have exploded. They're going to have to go back through the entire maintenance history of this plane to see whether all the corrections and repairs that had been ordered have been done."
According to the Aviation Safety Network, which tracks aviation incidents, the same plane's tail struck a runway while landing in Cairo in 2001 and required repair. At the time, the aircraft was operated by another carrier.
While authorities investigated what caused Saturday's crash, mourners paid their respects to victims at a makeshift memorial Sunday at Pulkovo Airport in St. Petersburg, where the aircraft was supposed to have ended its journey.
Early Monday, a Russian plane carrying the remains of 144 of the crash victims landed in St. Petersburg, Russia's state-run news agency RIA Novosti reported. Russian officials had previously said that as many as 162 bodies were on the plane repatriating the remains.
'It suddenly disappeared'
It remains unclear what caused Flight 9268 to drop off radar and hurtle to the ground, in clear weather and just 23 minutes after taking off from Sharm el-Sheikh.
Speaking to high-ranking army officers in Cairo on Sunday, Egyptian President Abdel Fattah el-Sisi asked them to observe a moment of silence before urging the public not to jump to conclusions. Determining what happened will require a lengthy investigation, he said.
"These are complicated matters that require advanced technologies and wide investigations that might go on for months," he said.
The crash is most likely the result of a technical failure, Egyptian Airports Co. chief Adel Al-Mahjoob told CNN Arabic on Saturday, although he noted that the plane passed a routine check before it took off.
Russian media outlets said that the pilot reported technical problems and requested a landing at the nearest airport before the plane went missing, but Egyptian authorities disputed that claim.
Air traffic control recordings don't show any distress calls, Egyptian Civil Aviation Minister Hossam Kamel said at a news conference.
"There was nothing abnormal before the plane crash," he said. "It suddenly disappeared from the radar."
Russia' state-run NTV news channel interviewed the co-pilot's ex-wife, who said he'd told their daughter he was concerned about the technical condition of the plane.
"Our daughter had a telephone chat with him just before the flight," Natalya Trukhacheva said. "He complained before the flight that one could wish for better technical condition of the plane."
'Little that can or should go wrong'
CNN aviation correspondent Richard Quest said it was "unusual" for an aircraft to go down after around 20 minutes in the sky.
"At this point, a plane is on autopilot. It's reaching its initial cruising altitude, and there is little that can or should go wrong," he wrote in an analysis.
Investigators are likely to get a better understanding of what happened from the aircraft's so-called black boxes — the flight data recorder and cockpit voice recorder — that have been recovered and transported to Cairo for analysis.
The data recorder stores a vast array of information about the flight, such as air speed, altitude, engine performance and wing positions. The voice recorder captures sounds on the flight deck that can include conversations between the pilots and warning noises from the aircraft.
Militants' claim of responsibility dismissed
The Sinai Peninsula, where Flight 9268 crashed, is home to ISIS-affiliated militants who are locked in a deadly conflict with Egyptian security forces. They appeared to claim responsibility for bringing down the Russian passenger jet in a statement posted online Saturday, but officials in Egypt and Russia dismissed it.
Mahjoob, the airport official, said there was no evidence of a terrorist attack. And Russian Transport Minister Maxim Sokolov said the claim that terrorists brought down the plane by using an anti-aircraft missile "cannot be considered reliable," according to RIA Novosti.
The Egyptian military said militants in Sinai have shoulder-fired anti-aircraft weapons that only shoot as high as 14,000 feet, far short of the more than 30,000 feet at which Flight 9268 was flying when it dropped off radar.
To reach such an altitude would require missiles using special launch pads and radar systems operated by engineers, the military said.
It added that many of the victims of the crash were found with their seat belts on, suggesting the pilot had asked them to buckle up because of a problem with the aircraft.
Nonetheless, Air France, the German air carrier Lufthansa and the UAE airlines Etihad, Emirates, AirArabia and flydubai have decided to reroute aircraft scheduled to fly over Sinai.
"We will keep that measure in place as long as we are not sure of the circumstances and the reasons of the Metrojet crash," Lufthansa spokeswoman Bettina Rittberger said. Metrojet is the name by which the Russian airline, Kogalymavia, is commonly known.
Etihad said in a statement that it was "complying with instructions by the Egyptian authorities to avoid certain areas of airspace over the Sinai peninsula," which would affect only a handful of flights.
Russians promised broad role in investigation
Russian emergency ministry officials were on the ground at the crash site in northern Sinai on Sunday, Russian state media reported.
Sisi has promised Putin to allow "the broadest possible participation of Russian experts in the investigation," according to the Kremlin. Putin has also ordered Russian Prime Minister Dmitry Medvedev to open an investigation into the crash, it said.
The Egyptian government said Sunday that 163 bodies have so far been transported to morgues and hospitals in Cairo while the search continues for others at the site.
The Airbus A321-200 that crashed Saturday was built in 1997, and Metrojet had been operating it since 2012, Airbus said in a statement. The aircraft had clocked up around 56,000 flight hours over the course of nearly 21,000 flights, it said.
There were 217 passengers and seven crew members on board, most of them believed to be Russian. Ukrainian Foreign Minister Pavlo Klimkin tweeted that four victims were Ukrainian citizens.
Sharm el-Sheikh, where Flight 9268 began its journey, is a beach resort dotted with palm trees at the southern tip of the Sinai Peninsula. The plane crashed about 300 km (185 miles) farther north, near a town called Housna, according to Egyptian authorities.