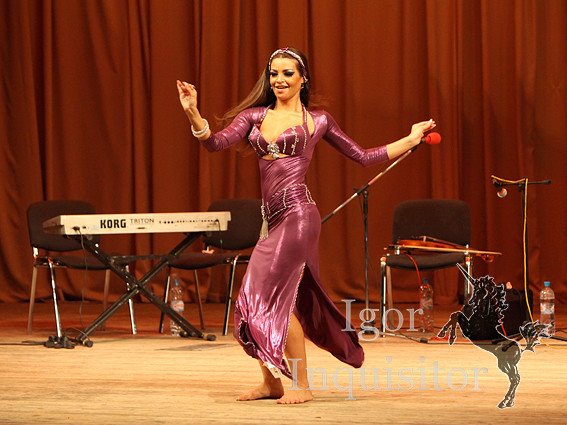 Giza Prosecution Office is to refer Russian belly dancer Eicatrina Andreeva, also known as 'Gawhara', to trial before a misdemeanor court on charges of inciting debauchery and instincts, working without license, and semi-naked dancing, judicial sources told Al-Masry Al-Youm on Wednesday.
Egypt police arrested Andreeva on Tuesday, interrogating her over the aforementioned charges before referring her to the Giza Prosecution Office, which released her on a bail of LE5,000, pending investigations.
During the investigation, which lasted about five hours, the prosecution used a Russian interpreter and confronted the Russian dancer with charges attributed to her by the police commissioner.
The police report said that Andreeva was dancing in a nightclub in a Nile boat in Giza without wearing "shorts" under the dance suit.
Andreeva denied the accusations and said: "I know the traditions of your country, if I wanted to dance naked I'd have done it in Russia. The dance suit that appeared in the videos is not provocative and is identical to the costume my counterparts wear in Egypt."
During the investigation, the Russian dancer accused police officers of stealing the dance suit she was wearing, claiming to use it as evidence in the case in court.
Andreeva said that she won an international dance award, and that she is the only foreign dancer who works in Egypt under a work permit issued by the General Administration of Tourism, Theatrical Professions Syndicate and the Ministry of Manpower and Immigration.
The preliminary investigations received by the prosecution revealed that the General Directorate of the Police of Tourism and Antiquities monitored the circulation of a video on social networking site Facebook showing a semi-naked dancer wearing a dance suit that is not in accordance with regulations.
The investigations found that Andreeva, 31, entered Egypt on 21 January and is working in a nightclub in Giza without a license.
Edited translation from Al-Masry Al-Youm