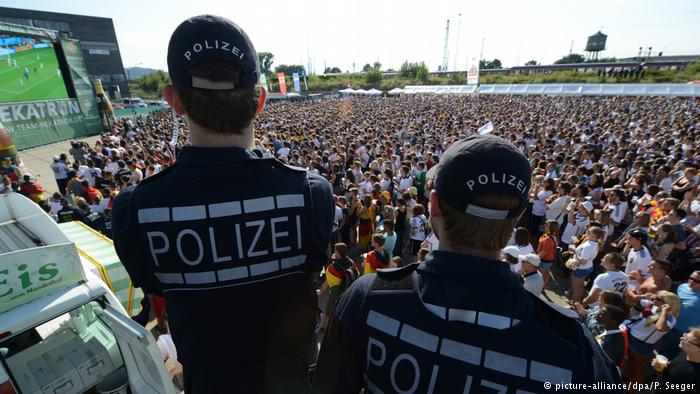 Germany's top police authority has found evidence that Islamist terrorist groups may target the 2018 World Cup in Russia. The agency also pointed to Russia's hooligan scene as a source of violence.
Germany's Federal Criminal Police Office (BKA) has estimated a high risk of Islamist terror attacks and hooligan violence during the 2018 World Cup in Russia, according to an internal BKA report seen by German daily newspaper Bild.
Violent clashes between Russian hooligans and Spanish police during Spartak Moscow's recent Europa League tie in Bilbao put the issue of security during the competition under increased scrutiny.
What the report found:
The risk of Islamist terrorism was high due to the large number of Russian "Islamic State" (IS) members who have fought in Syria and Iraq and seek to avenge the Russian government's attacks against IS targets in Syria.
IS has increasingly mentioned the World Cup in its communications since October 2017. The jihadist group has shared images of football superstars Neymar, Lionel Messi and Cristiano Ronaldo being executed.
A propensity to violence and racism are widespread among Russian hooligans. The BKA cited some hooligans who announced in early 2017 a "Festival of Violence."
There is also a risk of German hooligans entering Russia. A German T-shirt manufacturer was found selling shirts with "June 14, 2018 – July 15 2018: This time we'll arrive in the summer" printed on the front. It was unclear whether the shirt was alluding to Nazi Germany's failed invasion of Soviet Russia that began on June 22, 1941. An investigation into the T-shirt seller was opened but then abandoned.
A history of violence: Russian hooligans made international headlines when they attacked England fans during the 2016 European Championship in France. Thirty-five people, most of them from England, were injured in clashes in the southern French city of Marseille.